This is a Sponsored Post written by me on behalf of Ramblers Way. All opinions are 100% mine.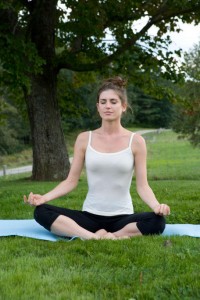 You might not believe this, but the tank top in the photo above is actually made of wool!  A company called Ramblers Way is given the image of wool a makeover, one garment at a time.  Their clothing is made from sheep that roam free in the US, and their process involves the most modern production technology available.  This includes a "Windspun" technique that makes theirs the smoothest, most luxurious wool yarn on the market.
Another aspect of production that sets them apart is that their garments are not pre-washed in chlorine, like those of many other companies.  In an effort to maintain the company's "all natural value set," they use a patented enzyme treatment that prevents shrinkage and keeps their garments fully washable.  So, not only are their garments American made, but they're also natural and chemical-free.
Ramblers Way garments are ultra light, which means that they keep you warm but breath naturally.  This makes them appropriate for year-round wear (although you still might want to avoid their sweaters in July!).  The tank top featured above will work alone in the summer and layered in the winter.
Typically, when I think of wool garments, I think of the hot, itchy sweaters I see old people wearing seemingly year round.  Ramblers Way has put a whole new spin on wool that makes it much more fresh and fashionable.  Their technology, American manufacturing, and natural approach truly make these garments you can feel good about wearing.