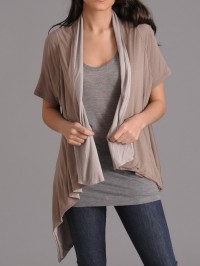 Reversible Short Sleeve Open Sweater.  This short sleeve open sweater is perfect for warmer months. Reversible with its contrasting layers. Short sleeves.  Available in Taupe/Stone and Navy/Stone.  $97.
I love clothes that do double duty, so this reversible sweater is a great idea.  Plus, the fact that you're essentially getting two sweaters in one – that makes the price much more reasonable.  The way the second color peeks through in the front is gorgeous and adds another dimension to any outfit it's part of.
I'm very partial to the length and style of this sweater.  I have several tops in this same cut and wear them on almost a daily basis.  They're perfect for layering over tanks and camis when it's cooler or when they may be considered inappropriate, and bring daytime dresses and tees into a sophisticated (and warmer) evening look!
To receive 20% off your purchase, use code "SITEWIDE" at checkout.