Recently, tarte asked me to part of a fun new blogger initiative they've created.  Several times throughout the year, they'll send me a set of hand-picked products for me to check out and share with you.  Yeah, I know – great for me…  But how does it concern you (aside from the fact that I'll be keeping you in the know about the best of tarte)?  Well, they won't just be sending me once set of products…  They'll be sending me two!  And that second set, dear readers, will be given away to one of YOU!
Today, I'm here to dish on the first set of products – and yes, host a great giveaway.  So read on to find out what fab swag is up for grabs!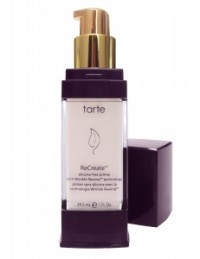 First up is the ReCreate Silicone-Free Primer with Wrinkle-Rewind Technology ($32).  This primer is perfect for those with sensitive, oily, and acne-prone skin.  Like ReCreate Foundation, this anti-aging primer is powered by Wrinkle Rewind technology for clinically proven results.  67% decrease in wrinkles, 47% increase in firmness, 53% increase in skin's moisture content in just 15 minutes post-application.
I love the feel of this primer when I put it on after moisturizing.  It's very soothing on my irritated skin, which definitely fits the criteria of "sensitive, oily, and acne-prone."  It doesn't emphasize any of these products, and instead, helps the foundation that covers them up to stay in place!  Considering how hard it is to keep makeup on my skin during the hot summer months, I'm excited to have a great primer to rely on so I can keep my makeup looking great!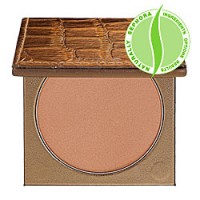 The second product in the batch is Park Avenue Princess Matte Bronzer
($29).
Sweep on this lightweight mineral powder and reap all the benefits: the fragrance free, talc free formula allows skin to breathe and it won't clog your pores even on the hottest days (and steamiest nights!). This formula is darker and packaged slightly differently than the original Park Avenue Princess Bronzer
(pictured at top) and is now matte AND waterproof!  I'm far too pale to wear bronzer, but I gave this to my mom, as she's a real bronzer fiend.  She's used tarte bronzer before and told me that it was great – plus, we both think the packaging is adorable!  This is a great item for a summer at the beach or a tropical vacation, especially considering that it's waterproof.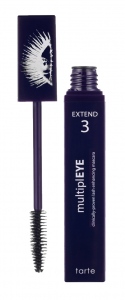 The third, and my personal favorite, in the pack is MultiplEYEâ"¢ Natural Lash Enhancing Mascara
($24).  Fortify lashes by naturally increasing lash volume by 638% while increasing the appearance of lash length and growth. Using a unique blend of high-performance natural™ botanical nutrients we've engineered a nourishing onyx-black mascara base infused with our proprietary HydroPlant™ peptide, a soy-amino super protein, to help stimulate lashes for a 638% increase in lash volume and increased appearance of length, growth and strength.
This is hands down the best mascara I've used in months.  It separates, thickens, and elongates my lashes without even the tiniest amount of clumping.  And it reminded me of the miracle that is two coats of mascara – since there's no clumping, two coats are a snap and make me look like I'm wearing false eye lashes.  And the results are even better when paired with the last product…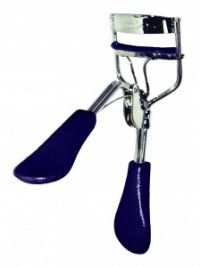 The last product up for grabs is the Picture Perfect Eyelash Curler
($15).  The picture perfect curler ensures an easy and painless eyelash curl with every use! before this, I was under the impression that all eyelash curlers were created equal.  Not so, my friends!  With my old curler, I got an almost ninety degree bend in my lashes, and almost always pulled them when they stuck to the cheap material it was made with.  The Picture Perfect caller from tarte creates a soft bend and doesn't pull my lashes.  When I use it with the multiplEYE mascara, the results are absolutely amazing!
CONTEST INFO:  One lucky gal will win all the items mentioned above, which have a combined retail value of $100!  You must complete the Mandatory Entry for all Extra Entries to count; please leave a separate comment for each.  US Residents only, please.  This contest will run until May 21, 2010, 11:59 PM EST.
MANDATORY ENTRY:  Which product are you most interested in trying, and why?  Also, do you have any favorite tarte products?
EXTRA ENTRIES:
Fan tarte on Facebook – 1 Entry
Fan The Fashionable Gal on Facebook – 1 Entry
Follow tarte on Twitter – 1 Entry
Follow @fashionablegal on Twitter – 1 Entry
Blog this Giveaway (leave a link) – 5 Entries
Add me to your Blog Roll – 3 Entries
Share in any other way you'd like (Facebook, Stumble, Digg, etc) – 1 Entry per Location
Tweet the Giveaway using the following text – 1 Entry per Tweet, Max 2 per Day
#Win $100 worth of products from @tartecosmetics & @fashionablegal – including 4 summer favorites!  http://wp.me/pbj1u-1Oq