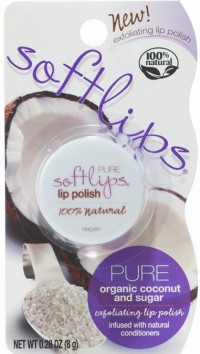 Softlips has expanded their Pure line with a range of 100% natural lip care products – just in time for Earth Month!  The products feature 100% natural ingredients with light, pleasant flavors and are free of preservatives, pthalates, sulfates, parabens, mineral oil, and gluten – AKA all the yucky stuff!
"Since so many women are looking to incorporate greener more natural lifestyles into their daily beauty routines, the new Softlips PURE 100% Natural product line makes a great addition to the existing PURE organic lip condition line," says Kathy Brown, marketing manager for Softlips.
If you're looking to get over the chapped lips that winter and dry heat cause, or just want to keep your lips in tip top shape for gorgeous summer glosses (and make out sessions!) – this is what you need.
Softlips PURE 100% Natural Lip Polish "provides a natural exfoliation for lips with organic coconut flakes and sugar and deeply moisturizes lips with bees wax and natural seed oils like safflower, mango, and castor seed."  The suggested retail price is $5.99, so that's likely what you'll see it selling for in stores!  I love lip scrubs and haven't had a good one in a long time.  The last one I purchased cost around $18 and the Softlips version definitely worked just as well – for a third of the price.  A little bit goes a long way, and the scrub helped remove all the dry and dead skin from my lips and around my mouth.  It primes perfectly for lipstick!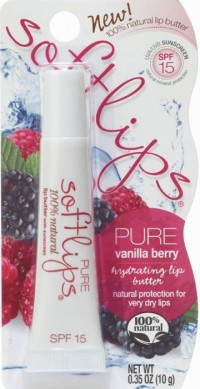 Softlips PURE 100% Natural Lip Butter is a great way to follow the lip scrub with.  It "provides hydrating SPF 15 protection for very dry lips with zinc oxide, shea butter, jojoba seed oil, and beeswax."
The Lip Butter feels like just that – butter!  It's heaven to apply, especially after the scrub when lips are rid of their chapped top layer and ready for some serious TLC.  The Vanilla Berry scent is very pleasant, light and sweet.  Even though the product's not meant for eating, I do enjoy the slight flavor.  Nothing's worse than having a fabulous lip product that tastes disgusting – not very appetizing to wear!
An added bonus of the Lip Butter is that it includes an SPF 15 that will help protect your lips from further damage.  It's a great addition to your lip care stash right now, since more outdoor time will mean more sun exposure!
I love both of these products, on their own and used together.  They're available at your local Target.