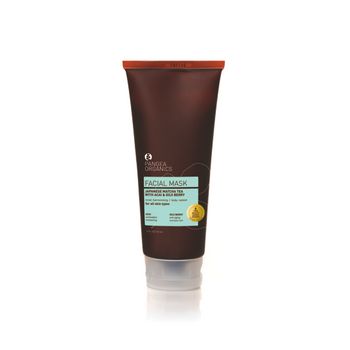 "You own it, you love it but you wish there were more of it, right?  Pangea Organics is pleased to introduce the new JUMBO Japanese Matcha Tea with Acai and Goji Berry Face Mask!  This six time award winning mask is now available in an easy-to-use 4 oz tube for the same price as the original size!  While the economy may be affecting us all, Pangea Organics is doing what they can to keep our wallets tighter and our skin brighter.
The unique facial mask does everything from detoxifying, deep cleansing and exfoliating, to toning, moisturizing, and even helps reduce wrinkles.  Containing therapeutic, soothing ingredients such as Acai, goji berry and Matcha tea, Pangea Organics  has combined a powerful blend of antioxidants and anti-aging elements that leave skin polished, glowing and radiant.  Perfect for that stay-cation or at-home spa treatment… and just in time for the holidays!"
I recently received this mask for review.  I'm a total mask junkie, and have a full drawer of them.  I love doing one whenever I have a few minutes of privacy, usually while I'm blogging before I hope in the shower.  Many of the masks I have target one or two skin concerns – oiliness, breakouts, dryness, etc.  This formula immediately gets big points since it treats so many skin concerns in a quick 10 – 30 minute application (depending on how much time you have).
The Japanese Matcha Tea with Acai & Goji Berry mask smells delicious and feels wonderful.  It looks like mud but isn't overly earthy smelling or overwhelming.  The ingredients are fabulous and reflect a lot of the ingredients that have become so popular for health and beauty, lately – Acai and Goji Berry in particular.  Below is a breakdown of the benefits of each ingredient's benefits.
ACAI:  Revitalizing.  An excellent source of antioxidants, amino acids and essential fatty acids.  Essential Amino Acid Complex with valuable trace minerals vital to proper muscle contraction and regeneration.
GOJI BERRY:  Anti-aging.  Contains up to 21 trace minerals.  Richest source of Carotenoids, including Beta-carotene.  Contains B1, B2, B6 and Vitamin E.
MATCHA TEA:  Soothing & Energizing.  Helps prevent free radical damage.  Contains Vitamins A, B-complex, C, E, and K.
I rinsed the mask off in the shower; the hot water made the experience even more enjoyable.  The grit in the mask makes a fabulous scrub during removal, which provides added skin cleansing benefits.  My face felt clean, relaxed and rejuvenated and looked great.  Instead of my usual foundation, I used a bit of tinted moisturizer and was ready to go.  The results have continued and I've experience glowing skin and a much smaller need for face makeup!
Pangea Organics is available at select Sephora locations, select Whole Foods, and online.