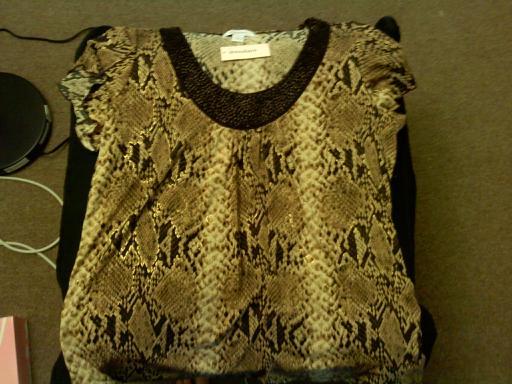 Today, I present to you the results of my Dressbarn Top Secret Fashion Mission.  I was sent the top above, and given the challenge of creating three outfits around it.  I generally stick to shades of black and silver, which means that I didn't have much to pair with a top featuring shades of brown and gold.  So, I've turned to the internet for help!  Below are three sets of items I'd love to pair with the top above…  Who knows; I may just go shopping soon!
KORS Michael Kors 'Paris' Sandal
Cara Accessories Bangle Set
Majorica 8mm Pearl Stud Earrings
Too Faced Natural Eye Neutral Eye Shadow Collection
Kat Von D Painted Love Lipstick Underage Red
BP. 'El Greco' Sandal
kate spade 'coral reef' bracelet
kate spade 'coral reef' earrings
Yves Saint Laurent Waterproof Mascara Ever Black
Yves Saint Laurent GOLDEN GLOSS #3 Golden Pink
bebe 'Berton' Platform Sandal
kate spade 'galaxy swirl' statement ring
Nadri Pave Disc Earrings
SEPHORA COLLECTION Multi-Action Nail Polish Red Light 6
Pop Beauty Lip Lust No 2 Flirty Fuschia
MAKE UP FOR EVER Eyelashes – Strip 101 Jamie
What a fun project!  It was really easy to incorporate the Dressbarn top into a range of outfits…  The challenge was to stop adding accessories, as there was just so much that matched!  As you can see, my three outfits are heavy on the glamour  – but it's a piece you can easily pear with jeans and flats for a casual day, or slacks and a blazer for work.  Such a versatile event is well worth the price, which I might add, is only $29.  An added bonus?  You can skip the statement necklace because the neckline is already detailed and eye catching.
If you want to keep in the Dressbarn loop, I recommend fanning them on Facebook and following them on Twitter.  Click here to find your closest Dressbarn location.