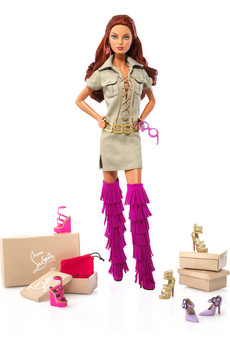 I want this Barbie.  I need this Barbie.  I must have this Barbie.
Christian Louboutin has collaborated with Barbie to create this limited edition 'Dolly Forever' doll. In a khaki mini dress, sunglasses, gold extras and Forever Tina fringed boots, she is the perfect gift for fashion lovers. She comes with a collection of 4 red-soled Louboutins, each with their own shoe box and bag.
Would you spend $150 on this Barbie?  I won't even spend that much on a pair of shoes, so it's a real stretch for me.  Still…  I so wish I could.  Since I won't be purchasing a pair of Louboutins any time soon, at least I could live vicariously since this babe (I envy her shoes AND her waist, but that's another story).
Want her?  Pick her up here.
Missed the first doll in the collection?  You can grab her here.
PS – There will be another limited edition Barbie released in May…Â  so start saving that change!