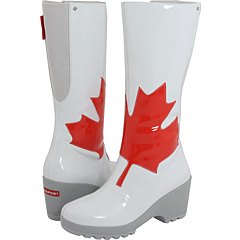 Aren't these boots super cute?  They're the Limited Edition Rockport "Canada" Rainboots, which retail for $119.95.  I love the heel, as it makes them even more chic and sleek.
The boots were designed by Rockport and gold-medalist Cassie Campbell-Pascall, and are available exclusively at Zappos in the US.  They're waterproof patent-leather and adidas insole technology, which means they're comfortable for all day wear.
What do you think; do the Lorraine's take the gold?  Will you be picking up a pair of these Olympic style boots?