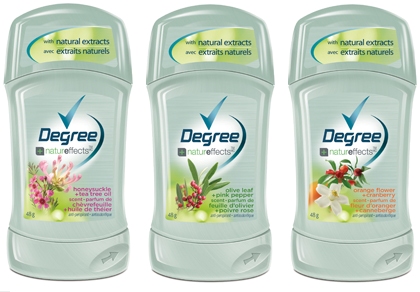 I'm eagerly waiting for my sensory experience package from Degree this week.  I can't wait to see what's inside – and of course, tell you gals about it!
I'm also really excited to see the new line of deodorant from Degree – their Nature Effects line.  I haven't been provided any "official" information about it, but I did find the photo above…  As you can see in it, the three new deodorants will feature honeysuckle & tea tree oil, olive leaf & pink pepper, and orange flower & cranberry.  They sound good enough to eat – although I'm sure that's not recommended.
When I have more information, I'll be sharing it here – so keep an eye out!