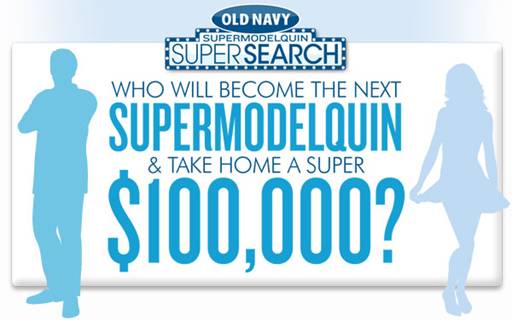 "Old Navy has just launched its first-ever nationwide Supermodelquin casting call, giving consumers across America the chance to become the next Old Navy Supermodelquin and win a $100,000 grand prize.
In the first challenge, "Pose with the Plastic Pros" (2/16-2/25), contestants prove their plastic by heading into their local Old Navy and taking a photo of themselves with the SuperModelquins and uploading it to the Super Search site (www.oldnavy.com/super). The second challenge, "Moldelquin Makeover," (3/4-3/14) uses the power of the SuperMolder technology, allowing contestants to build their plastic match to be rated by voters. The third challenge, "Lights, Camera, Plastic" (3/21-4/1) asks contestants to build their own Old Navy commercial and deliver the hilarious punch line to prove that they have what it takes to be plastic."
What a fun idea!  I'm sorry for not giving much head's up for Round 1, but I just got the email – so hurry!