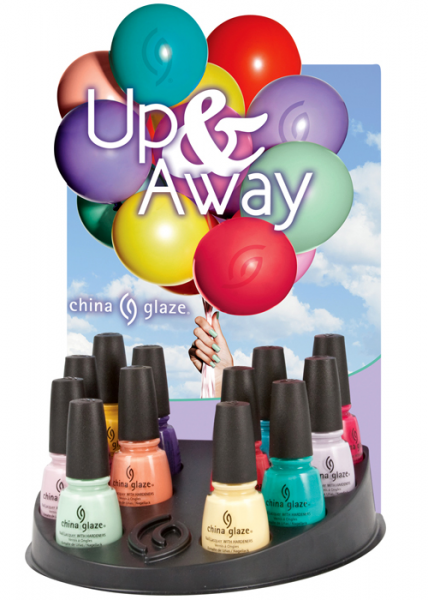 When I first saw China Glaze's Up & Away Spring Collection, I was enthralled.  The pops of teal, the peeks of yellow, the soft greens and lavenders…  All the colors I've been secretly longing for, lusting after, dying to wear – and they're now all, quite literally, at my fingertips!
I was even more excited when China Glaze sent me several bottles to check out and discuss with you gals.  Before I get into the polish itself, here's a breakdown of the fabulous color palette
Flyin' High:  A rich, teal tinged blue that will make you think of ocean and sky at the same time.  Flyin' High has the depth of both; a color you can easily fall into.
Four Leaf Clover:  I'm obsessed with anything green, and this baby is no exception.  It's a glossy, rich, surprisingly bright green that will make you feel closer to Spring with each coat.
Grape Pop:  Purple's have been in for quite a while now, and Grape Pop is just another way to wear it fabulously.  It's a very true, royal purple that doesn't hint of a blue or red base the way many purples do.  Pure sugary treat.
Happy Go Lucky:  This is my favorite shade in the collection – it's a perfect, sunny yellow.  I've been craving anything yellow lately, so I'm all about this polish, that feels true to it's name.
Heli-Yum:  A delicious reddish-pink, described as "Raspberry."  It looks delicious, like berries you'd find on a slice of decadent cheesecake.  Try not to lick your manicure…
High Hopes:  This color has hints of coral, which is another huge color for the season.  If you're nervous about going the orange route, High Hopes is a very gentle way to do so.
Lemon Fizz:  Another favorite, this yellow is a very soft shade.  If Happy Go Lucky is the sun at full might, Lemon Fizz is the rays that break through the clouds first thing in the morning.
Light as Air:  This shade is one of the three I received for review.  It's a very soft lavender that works well with my pale skin tone.  For a pastel, it's very bright and eye catching – it makes an equal statement to Grape Pop, but in a more subtle way.
Peachy Keen:  I'm completely in lust with this rich shade that looks juicy enough to bite into.  Your favorite fruits might not be in season  yet, but Peachy Keen is a great way to get your fill in the meantime.
Re-Fresh Mint:  The second shade I got for review; a green!  This is like the sprigs of herbs I slip into my ice tea all summer long, and is even more delicious.  It looks great alternated with Light as Air!
Something Sweet:  This shade makes me think of Twiggy.  It's a bit of a 60's pink, but simultaneously an Easter egg hue with a touch of lavender.  Definitely worth checking out.
Sugar High:  This is the third color I received.  At first I wasn't thrilled – oh boy, another pink.  After wearing it for a week, I've been converted and now am heading the fan club for this warm rosy hue.
Since I only tried a quarter of the polishes in this collection, I can't say how the overall application is.  Two of the three I tried were pastels, and the third was relatively light, so I can weigh in on them!  I was expecting the light cremes to be very thin and need several coats (and lots of patience).  Fortunately, I was wrong – two coats easily did the trick and made my nails look like those conversational candy hearts I've been snacking on looking at all week.
I took a cue from my high school style (which is normally a big mistake!) and alternated the colors on my nails.  The result was very light and fun, which is the tone of the whole collection.  Pick two favorites or go for a full ten colors – you can't go wrong!  I can't wait to use these colors for pedicures during sandal season, pair them with light Spring dresses, and just generally rock them whenever I can!