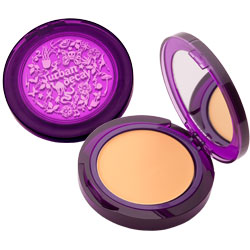 Pale girls, it's our time to shine!  I've noticed a trend in the Spring 2010 makeup collections from my favorite companies – beyond the gorgeous coral lipsticks.  This one has to do with skin!  Several of my favorite companies have *finally* released foundation and other skincare products in light colors.
Gone are the days of "mud face."  No more foundation lines because my foundation's too dark.  No more mixing and matching in hopes of a shade that works.  I'm so excited to be able to log onto my favorite sites (like Urban Decay!) and order the right product without any hassle.  Thank you, Makeup Gods – thank you!
Of course, the best color match in the world won't makeup up for a sub par product.  That's just another reason I'm delighted Urban Decay is one of the companies to jump on the Pale Girl Train.  Urban Decay is a brand that I know, beyond a doubt, will offer products of the highest quality and performance.
Surreal Skin Cream-to-Powder Foundation
does not disappoint.  The compact itself is adorable, and while it holds plenty of product, it's also a size that can be slipped into your purse if you've got a long day ahead.  As you can see, there's a mirror in the lid that will make application on the go a snap.  Plus, who doesn't love purple?
I did initially have some reservations about the Surreal Skin Cream-to-Powder Foundation
.  I've been dealing with a bout of super dry skin, so I thought that the foundation looked a bit heavy and might exacerbate the condition.  Also, the brush that comes with it (kept in a compartment below the product) looked like it might be prickly and hinder more than help.
Of course, I should have just believed in the magic of Urban Decay and known that everything would be alright – because of course, it was.  The foundation is incredibly creamy to begin with, and it's not heavy or pore clogging at all.  It "transitions" to a smooth finish, which isn't heavy either.  Instead, I'm left with a pretty much flawless finish (there were a few big trouble spots on my chin that weren't completely covered).  I loved the product so much I used it under my eyes instead of concealer, and didn't have to set it with my usual layer of powder, other.  That saved some major time.
The brush, which I sadly don't have a picture of, is also perfect.  I did have to blend with a finger under my eyes and around my nose, but otherwise, the brush works wonderfully.  If you're not lovin' it, just switch to makeup application wedges and you'll be all set.  The sponges are so cheap that it's not a big deal at all.
The three new shades include Haze, Fate, and Kismet (pictured above).  I was sent Haze and Kismet for review, and Haze is a perfect match, although Kismet is wearable for me as well.  There are eight other shades in the line for those of you with a darker skin tone, so everyone's included!  The Surreal Skin Cream-to-Powder Foundation
compacts retail for $34.  Stay tuned for more info about Urban Decay's gorgeous Spring line…