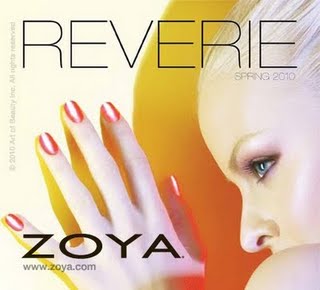 I can't contain my excitement as I write this post…  I'm just too thrilled!  Since I was a little girl, finding my name on ANYTHING – you know, pencils, barrettes, pins, mugs, bells…  I could never find "Laney" on anything.  It was wildly disappointing, and I still feel compelled to check "name products" whenever I see them in the store.  Of course, I still have no luck.
So when Zoya emailed me about their Spring 2010 Reverie collection, I wasn't expecting what I found.  Granted, all of their polishes are girl's names – and often times their unusual names – but still, years of childhood disappointment didn't prepare me for what was coming next.
Zoya's Reverie collection includes a polish called Laney, and it's actually named AFTER ME!  Don't laugh at me for the amount of joy this has brought me; unless you have a name you can never find and no one can ever spell, you just won't understand.
For reasons beyond me, Zoya's new collection isn't just about me…  Even though I totally think it should be.  But no, there are five new polishes along with Laney, and really I can't complain because they're all just as rockin'.  And some more lucky ladies will now be able to find their names in the store, even if it's not on a pencil (but really, this is better).  Reverie also includes Adina, Reece, Happi, Gwin, and Lana.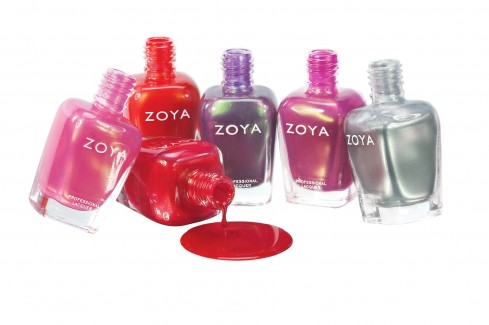 Laney:Â  Silver Moonlit Metallic (furthest right)
Besides the fact that I obviously think this polish is phenomenal – I actually didn't have a silver polish in my collection.  It does take three coats to get full coverage, but it's totally worth it – Laney reflects a rainbow of colors under the light, almost like a puddle of oil (but in a good way).
Adina:Â  Duochrome Violet Metallic (center)
I don't wear a lot of purples, but the metallic finish of Adina and the reflective properties made me really drawn to this shade.  I'm very pale and Adina looks great, but I think it would really pop against a great tan, so keep this shade handy once summer arrives.
Reece:Â  Gilded Rose Metallic (second from right)
This is my second favorite shade in the collection; normally I'm not particularly interested in pink polish because there are SO many available, but Reece is such a sexy shade of rose that I can't ignore it.  It's perfect for Spring get togethers and all those cute dresses you've been dying to pull out of your closet.
Happi:Â  Pink Blush Metallic (furthest left)
This is another exception to my "I don't care about pinks" rule; it's just too sweet to pass up.  I'm planning a pedicure with it this week and can't wait to wear it with sandals!
Gwin:Â  Sunny Melon Metallic (second from left)
Gwin is another really rich, summery shade.  It makes me think of volleyball on the beach, margaritas, heat.  It's a fabulous shade of melon that looks ripe and delicious on my fingertips and equally attractive on my toes.
Lana:Â  Rich Red Metallic (tipped)
I like Lana because it's not another firetruck red, but more of a dark tomato shade.  It's a great way to lighten up the rest of winter and think about all the delicious fruits and veggies that will soon be in season – and the flowers that will be blooming!
I was planning taking pictures of me sporting these shades, but I'm going to spare you – I've been packing and unpacking for the past few weeks and my fingernails are wrecked.  And, well, I've got a bad case of "Winter Feet" so nobody wants to see what's going on in my sneakers, either!  Besides, since these are all very reflective metallics, it would be hard to do them justice!
Now for the fun part…  The fabulous ladies at Zoya sent extra product with the polishes I got for review.  In fact, they sent quite a few bottles!  So this contest is going to have FOUR fabulous winners!
Contest Info:
One GRAND PRIZE winner will receive the entire Zoya Reverie collection, one bottle of each shade.  Three RUNNER UP winners will receive a bottle of Laney!  This contest will run from February 22nd to March 8th, 11:59 PM EST.  This contest is open to US Residents ONLY (sorry!).  The Mandatory Entry MUST be done in order for extra entries to count – please leave a separate comment for EACH!
Mandatory Entry:
Check out the full list of Zoya Nail Polish.  Is there one with your name?  If not, what's your favorite shade?
Extra Entries:
Follow @Zoya_Nailpolish on Twitter – 1 Entry
Fan Zoya on Facebook – 1 Entry
Fan The Fashionable Gal on Facebook – 1 Entry
Follow The Fashionable Gal on Twitter – 1 Entry
Tweet about this giveaway.  Use your own text or copy the example below.  Can be done 1x daily for extra entries – leave a comment with a direct link!
"#Win @Zoya_NailPolish 's Spring 2010 Reverie collection from @fashionablegal; 6 gorgeous shades – 4 winners! http://tinyurl.com/ydgygxq"
Subscribe to The Fashionable Gal – 1 Entry
Blog about this giveaway & leave me a link – 3 Entries