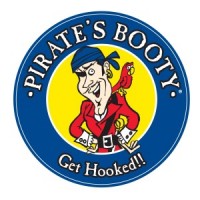 Today's healthy snack suggestion is brought to you by Pirate's Booty.
"Glad you dropped anchor with us.  You've just discovered the isle of healthy snacking, abundant with crunchy treasures that are god for you.  We've combined the best, real, all natural ingredients to bring you the scrumptious snacks you've long hunted for.  So stock your hatches with Pirate's Booty, live a little healthier, and Get Hooked."
Pirate's Booty offers a variety of snacks made from puffed rice and corn.  A serving is only 130 calories, which makes these a great alternative to regular potato chips and the other usual suspects.  Flavors include Original Tings, Aged White Cheddar, Veggie, Barbecue, Sea Salt & Vinegar, Bermuda Onion, Real Wisconsin Cheddar, and New York Pizza.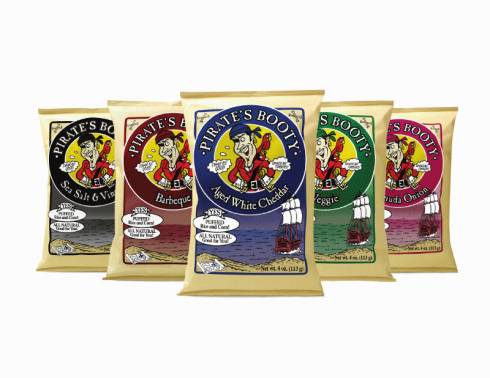 ~Baked
~All Natural
~Trans Fat & Gluten Free
~130 Calories per single serving bag
~50% less fat than potato chips per serving
~"Veggie" flavor is Vegan Friendly
I got to sample several varieties of Pirate's Booty and am completely sold!  The texture of food is very important to me, and I am a big fan of snacks that are crunchy.  Potato chips are generally very unhealthy, and even the newer, waist-conscious varieties don't really work for me.  Pirate's Booty has created a healthy AND delicious solution!
My favorite is the Bermuda Onion flavor.  It's an unusual flavor, but I love the delicate mix of sweet and savory flavors.  Both Cheese flavors scored high with me as well!  I actually really enjoyed all of the flavors, but wasn't particularly excited by the Original Tings.  If you like regular potato chips, you'll probably like them more than I did.
Pirate's Booty is a great way to make healthier snacking decisions while living in a dorm.  I know that snacking is a given – and a constant – and reaching for obviously diet products can be embarrassing.  Pirate's Booty doesn't have any labels that will make your smart decision obvious.
Check out the Pirate's Booty Online Store.  You can buy Pirate's Booty by the case!  Or if you'd prefer, find a retailer near you and grab a few bags to snack on.