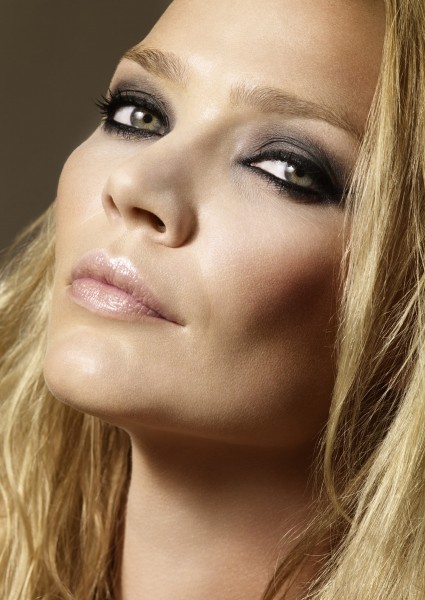 Recently, I had the privilege of taking part in a Web Conference hosted by Makeup Artist Jemma Kidd.  The Director of the Jemma Kidd Makeup School, David Horne, was also present to share beauty tips and tricks.  I'll be passing this info on to you in sections, throughout the next few weeks.  Today's topic is Jemma Kidd's "Punk Couture" look, which I recommend for evening parties – especially those taking place on New Years!
This is a rockstar, rock-chic kind of look.  Sexy and modern, look that suits everyone.  It's a punchy look for parties, inspired by Kate Moss .  This look has become messier than it was in previous seasons- more sultry – it can't be too neat & tidy.  This look gives you real confidence; David Horne says that "If you do it right, it will give you real confidence."  Focus on your eyes with dark shadow and liner, while leaving the rest of your face neutral – not too dewy; a slightly matte finish will be more flattering.  Keep lips neutral but not too pale, and add a hint of warmth to cheeks with a soft blush.
Here's how to create Jemma Kidd's "Punk Couture" look using Jemma Kidd Makeup products, available exclusively at Target.
STEP ONE:
Use the Strike a Pose Swivel Palette.  Rim eyes with black liner, all the way around, staying on the water line.  The line should be thick, but don't stray into that sophomore year Goth thing.
Blend the mid-tone shade from the palette all over the lid to the lash line, then use the darker defining color in the crease.
Apply black eyeliner pencil all the way around the inside of the upper lid and along the edge of the lower lid at the root of lashes.
Finish with several layers of black mascara to define eyes.
STEP TWO:
Still using the Swivel Palette, dab the creme blush on the apple of your cheeks using your fingertips.  Blend upwards along the cheekbone, then apply the creme highlighter shade sparingly to areas on the face that naturally catch the light.  This will help create a natural glow.
STEP THREE:
Once again, using the Swivel Palette – simply sweep the lightly tinted gloss onto your lips using a clean finger for an instant touch of glamor and to finish your look.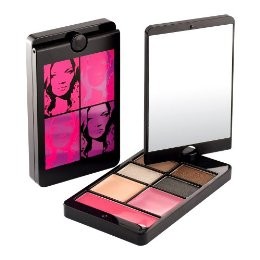 How cool is this palette?  I love that it has basically everything you need to do a complete look (just add foundation & mascara).  The mirror is such a great idea as well!  No more packing a bulky makeup bag for trips or packing your purse with touch up products AND a compact when you're going out!  I was sent the swivel palette for review and I'm a huge fan!  Retails for $32 exclusively at Target.