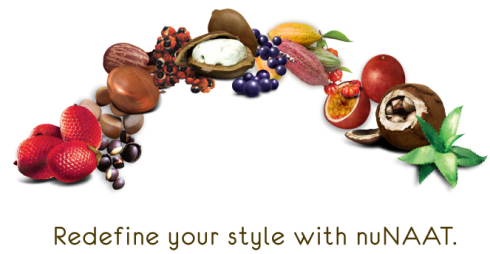 "Brazil has long been seen as the land of beautiful women and exotic natural surroundings.  Brazilians are known for their special relationship with nature, and have been utiliint ingredients found within their ecological system for healing and comforting purposes for centuries.  Some of the most beneficial ingredients for the skin and hair come from Brazilian plants and nuts such as Cupuacu, Buriti, Guarana and Brazil nut oils, and Brazilian women have used these natural elements in their daily beauty routine to help nourish, moisturize, and revitalize their skin and hair.
With this in mind, Brazilian beauty company nuNAAT, has developed product lines for boths kin and hair which incorporate powerful ingredients found within Brazil's Amazon Rainforest to create authentic Brazilian beauty wherever they are applied.
According to Alexandre Cutait, Vice President of nuNAAT, 'Brazilian women have used their countries' natural resources in their beauty routines for as long as they can remember.  They've used these ingredients to nourish their skin and hair, never looking beyond the Amazon to find what makes them beautiful.  All of these ingredients can be found in nuNAAT's diverse product lines, which caters to those seeking the best nature has to offer.'"
I was sent nuNAAT's "Chocolat Special," which contains a Creamy Shampoo, Conditioner, Cream Mask, and Anti-Frizz styling product.  "nuNAAT's Chocolat Special line is designed to restore chemically treated hair's natural velvety shine and splendor as the unique formula contains Cocoa Butter and Brazil Nut oils to revitalize and restore moisture.  The alluring chocolate fragrance is also a special treat for those looking for a little extra self-indulgence."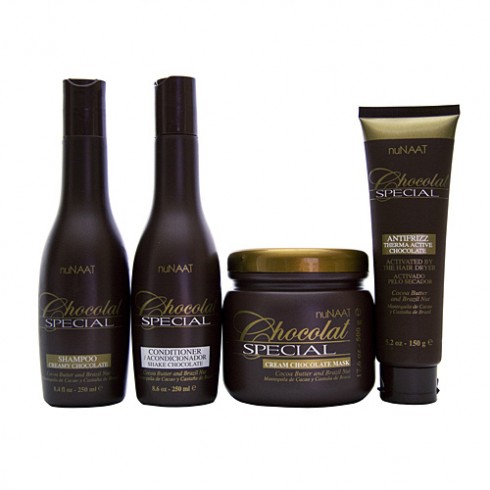 Chocolat Creamy Shampoo:  The shampoo looks like Hershey's syrup; dark rich with a luxurious lather.  It moisturizes hair while working to protect against further damage from environmental and styling/treatment factors.  Price – $6.49
Chocolat Shake Conditioner:  This one looks more like caramel to me; it's a lighter and slightly thicker formula than the shampoo.  The conditioner strengthens hair, while bringing back shine, softness, and manageability.  Price – $6.49
Chocolat Cream Mask:  If your hair is in some need of extra TLC, this mask is a perfect repair tool.  All you have to do is apply it once a week and let it sit for 20 minutes- about the length of one of your favorite TV shows.  Price – $6.99
Chocolat Anti-Frizz Therma Active:  Apply to wet hair before styling and protect your hair from the damage of heated tools.  Perfect if you blow dry or flat iron frequently, or have "frizz issues."  Price – $7.49
The first time I used the nuNAAT shampoo & conditioner, I didn't notice any change in my hair.  The smell was delicious, but I was pretty neutral on the products…  However, while chatting with The Fashionable Housewife about her experience with the products, I knew I had missed something!  She kept telling me how much she loved them, and what a difference they'd made in her hair.  I figured it was time for Round Two.
When I used the nuNAAT products originally, I had showered, combed my hair, and went to bed.  The second time around, I used them in the morning and then styled my hair.  WOW.  She wasn't kidding- big difference!  My hair is short, sporadically curly, temperamentally frizzy, and loads of other fun things that translate into "unmanageable."  However, after shampooing & conditioning with the Chocolat line, then following up with a dollop of Anti-Frizz Therma Active before blow drying?  Total transformation.  My hair was definitely softer, shinier, and easy to style.
My hair may be a pain, but my boyfriend's locks are the real test.  His hair is VERY curly, and often becomes a swirling vortex rather than a style if not cared for properly.  Usually he uses products intended for African-American hair to keep it in check, but I convinced him to give nuNAAT a try (which wasn't hard, after I told him about the chocolate scent!).  The shampoo/conditioner/Anti-Frizz combo works miracles for his hair, helping his curls maintain definition rather than become a wild mess.
Bottom Line?  nuNAAT is an affordable (delicious smelling) solution for hair that needs help, boring showers, and your boyfriend's mane.
Click here to find a nuNAAT retailer near you, or visit their website to further explore their products and buy online.