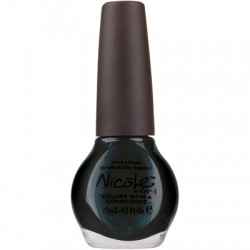 Navy Blue, Black, and Purple are all top 2009 Fall nail color trends.  Thanks to Nicole by OPI, I found a way to wear all three!
While browsing the Beauty section of the TJ Maxx in Framingham, MA, I found several gorgeous shades of perfectly on trend polish.  The one I purchased is called Blues in the Night (pictured above).  It's relatively impossible to photograph without looking a little murky, like the picture above, because of the unique blend.  The base is black, but depending on the angle from which you look at it, you'll get a rich reflection of navy or deep purple.  Whatever color the polish appears, there are stunning flecks of finely milled silver glitter mixed in.
Blues in the Night normally retails for $7.99, but it was only $3.99 at TJ Maxx.  If you can't find it at your local store, check out the link above for a $7 bottle.  There were several other similar formulations, all with different "tints" to them.  I'm thinking about going back for the green.  Oh, and Nicole polish is DPB, Toluene, and Formaldehyde Free!