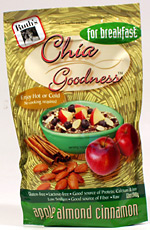 Ladies, listen up!  Chia is no longer just something bizarre to grow from an animal shape on your counter.  It's now…  A cereal?
I was skeptical when asked if I wanted to receive a bag of Chia Goodness, a new breakfast blend that seems out of place anywhere but the garden.
But, you know…  Anything to cut the grocery bill, right?  And I love tofu, so I figured maybe I'd go for this healthy snack too.
"Chia Goodness is a new concept in breakfast cereal.  The ingredients are completely raw– just stir in milk or water, cold or hot, and wait a few minutes for it to thicken, giving it the comfort quality of oatmeal.  Try 2 tablespoons in your bowl with 4 tablespoons liquid.  For the adventurous, try using any hot or cold liquid.  Chia Goodness is ready faster with hot liquids, slower with cold or acidic liquids such as juice.
More calcium than milk, more Omega 3 than flax, and one of nature's best sources of dietary fiber, Chia Goodness is low glycemic, delivering its amazing nutrients slowly to impart energy and well-being throughout your day.
We combine chia with our shelled hempseed, a great source of protein, essential fatty acids and trace minerals, then add other grains, fruit and seeds to give you the best breakfast ever."
Chia Goodness is available in 3 flavors:Â  Original, Apple Almond Cinnamon (the blend I was sent), and Cranberry Ginger.
Apple Almond Cinnamon has 130 calories and 6 grams of fat per serving.  It also contains dietary essentials like Vitamin A, Vitamin C, and Calcium- plus many, many more wonderful & healthy ingredients!
The Verdict:  I love Chia Goodness!  I don't really like cereal or oatmeal, so I mix mine with yogurt.  Normally I'm ravenous in the morning, but a cup of fat free yogurt and a tablespoon or two of Chia Goodness keeps me full well into the afternoon.  In the evening, when I want a filling snack but also crave something sweet, I've mixed Chia Goodness with fat free pudding or sprinkled it over frozen yogurt.  It doesn't have a particularly strong flavor (although the apple bits are delicious) so it mainly adds texture and makes whatever I'm eating much more filling.
You can purchase Chia Goodness online directly from Ruths Hemp Foods, where it retails for $7.50 a bag.  If you're looking for a healthy way to make your meals and snacks more filling, Chia is the way to go!
Ruth's Hemp Foods also carries a selection of other healthy products, such as power bars and tortilla chips, all made with wonderful natural ingredients!  To stay updated on Ruth's products, you can follow them on Twitter or fan them on Facebook.