Have an outfit that's missing the perfect bag?  Sick of carrying the same purse as everyone else?  Love to make your own style, but don't have the time or know-how?
With Elemental Threads, you can go from this: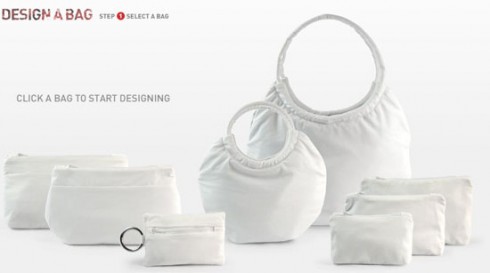 to THIS:

And all with just a few easy clicks of the mouse!
"Elemental Threads is a socially-responsible custom-made handbag company.  At www.elementalthreads.com, you can design your own handbag by choosing the type of bag, fabric, lining and hardware.  We also sell ready-to-wear accessories including bags, bracelets, necklaces and hair pieces on our Blog Shop and Etsy Shop.  Elemental Threads uses eco-friendly fabrics, participates in the carbon offset program ShopGreen, uses recycled packaging, donates to charitable organizations and all products are handmade in Boston, MA."
I discovered Elemental Threads a month or so ago, when I entered a contest for a personalized bag on another blog- and won!  I was so excited with the bag I received, I knew I had to bring the bags to you gals as well.  Emily Worden, the President of Elemental Threads, was generous enough to provide a bag (winner's choice, of course) for giveaway here on The Fashionable Gal.  We'll get to that in a bit, but first…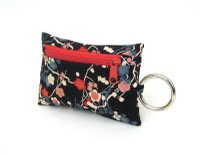 If you're wondering how Elemental Threads works, it's quite simple.  Select a bag style, outside fabric (you'll have options like cotton, bamboo, tweed, and other fab fabrics), lining, and any other "hardware" for your bag (i.e. zipper color, buttons, etc).  Viola!  Elemental Threads will lovingly assemble your beautiful bag, then deliver it right to your door!
Elemental Threads is an affordable way to personalize a your handbag.  The most expensive bag is $75, which is certainly much less than all the designer bags being shoved down our throats every day!  While a high end logo might be an ego boost, a personalized bag is a much chicer way to flaunt your style.  And what a wonderful gift idea!  If you don't know exactly what your best gals might like (after all, there's a huge selection of fabrics), gift certificates are available as well.
In case you're wondering…  I selected a Ring Pouch, and finished it with a blue tweed and blue nylon lining.  I thought it would be perfect to hook on a belt loop when I head into the city and want to go sans purse, or need to stash mini items in my laptop bag without them being damaged.  The Ring Pouch is absolutely perfect, not to mention gorgeous.
BUY IT: As I mentioned, Elemental Thread bags are wonderful for expressing your style or giving to a high fashion friend.  Elemental Threads is helping us continue to raise money for Breast Cancer, through a donation program taking place through November 30th.  If you order one of these lovely bags, use code "TFGBCRF" and 10% of the proceeds from your sale will be donated to the Breast Cancer Research Foundation.  Everybody wins!
WIN IT: *2* Lucky Gals will win their choice of the Ring Pouch or Medium Pouch.  To enter, leave a comment below describing which bag you'd pick, and the details of how you'd personalize it!  You have until 11/20, 11:59 EST to enter.
**If you get a message that your comment has marked as spam and it is not posted right away, please do not re-post it.  Our spam filter is overzealous, but your comments have NOT BEEN DELETED.  I approve all non-spam comments and they will be posted once I do so.**
Mandatory Entry:Â  As listed above, tell me which pouch you'd pick and what design decisions you'd make.
Extra Entries (one each, unless otherwise noted):
~Tell me another item (aside from one of the two giveaway options) from Elemental Threads that you love.
~Follow @eThreads on Twitter
~Fan Elemental Threads on Facebook
~Follow @fashionablegal on Twitter
~Fan The Fashionable Gal on Facebook
~Tweet this giveaway using the following message, up to 2x per day for 2 entries:
"Win a personalized bag from @ethreads and @fashionablegal – winner's choice of style & pattern! http://tinyurl.com/yk4q67k Ends 11/20"
~Blog about the giveaway for 3 extra entries (leave 3 comments w/ a direct link)