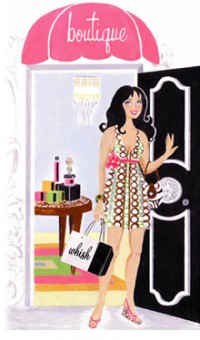 "Jesse Werner has always had very sensitive skin, making ingrown hairs; razor burns and cuts a part of his daily shaving routine. After trying countless products and razors, including prescription creams, Jesse finally found the solution to his rough shave problem – a European cream that he used with a shave brush. One day, Jesse's wife, finding herself stuck without shaving cream, asked to borrow his. Undaunted by the leathery chair smell, she swirled it on and set to shaving – using both the cream and the brush for the first time –and experienced, in her opinion, the best shave of her life. Her only comment was "Wish I had something that worked so well, without leaving me smelling like an old English guy.'"
Okay, so how adorable is that? I love that a man created this amazing line of skincare and shaving products for women… and even more so that he did it for his wife! 1,000 bonus points for Whish, heh!
However, let me make it clear- Whish products don't need any "bonus points," as they're absolutely fabulous on their own! The line is made up of three luxurious scents: Almond, Lemongrass, and Pomegranate. Although I haven't smelled the Lemongrass, I adore the Pomegranate, and I'm head-over-heels for Almond! It has a delicate smell, less like the actual nut and more like almond cookies!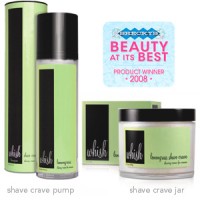 Each scent is featured in the main categories of products: Wash, Exfoliate, Shave, Moisturize, and Perfect. These categories feature Body Wash, Sugar Scrub, Shave Cream (pump or jar), Body Butter, Hair Inhibiting Gel, and an Ingrown Hair Serum. I got to try the Body Wash (Almond) and Body Butter (Pomegranate). Absolute shower Heaven! The products are all natural, and contain many organic ingredients- such as organic shea butter, organic marigold, organic rice bran oil, and organic seaweed extract- what luxury! After using the two products that Whish sent me, my skin has become silky smooth and perfectly pampered!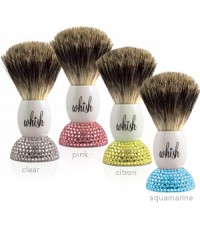 Whish also features a selection of beautiful shaving brushes. I don't have one (yet!) but I'm fiercely lusting after them- especially the ones with the Swarovski crystals! There's a nice selection of colors and designs, and the brushes range from $65 to $170; I think one of these babies would be a fabulous gift (and Christmas is coming up)! Each brush is handmade in England, made entirely of fine badger hair, and under a one-year warranty. What a wonderful way to be pampered…
If you want to stay updated on all that is Whish, you can sign up for their newsletter here!
Whish was fabulously generous and sent me two products to review…  But their generosity doesn't stop with me!  Whish donated a Pomegranate Body Butter and Shave Cream in honor of Breast Cancer Awareness Month and Fashionable Gals for a Cure!  The duo is worth $48, but you can enter to win for just a $1 donation!  PLEASE check it out here, and keep Whish in mind for all your body needs : )