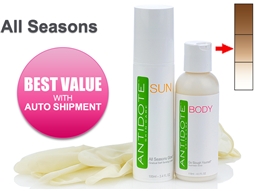 Real Summer glows come and go- but your tan can last forever!
Winter's coming, wallets are tightening, and suddenly hours of sun an expensive salon-tans are becoming out of the question!  Which means it's time for the dreaded chemical filled, horrible smelling, streaky-orange at home tans to commence…  Or not!
Are you ready for a better way to tan, without the high price (or risk of cancer)?  Recently, I was introduced to Antidote Skin Care– a company that "provides high quality and environmentally conscious self-tanning products with personality. The end user is [their] focus and as such [they] educate and listen above all. [They] are the self-tanning mentor and friend."  Their values include:  Fun, Integrity, Creativity, Communication, and Accountability.  How refreshing!
Sinead Norenius, the Self Tanning Queen herself (and author of the Self Tanning Queen blog!), created Antidote Skin Care's line of self tanning products based off of feedback she received about what was lacking from tanning products on the market today.  After finding the perfect tan shade, Sinead eliminated all the "yucky stuff," like parabens, propylene glycol, sodium laureth (and that bad smell)!  And on top of that, Antidote's products are cruelty-free!
Two Tanning Systems are available:  Gradual or Dark.  You can check out specifically what's included in each kit, but basically, you get all the products to prime your skin and to achieve a fabulous tan!  And with auto-shipment (you pick how often you'd like to receive), you'll never have to go pale again!  Antidote's tanning systems also come with a 30-day money back guarantee, so if you're not thrilled with your sun-kissed self, there's no reason to cry- another nice change!
The gorgeous Sinead has posted a series of videos on her site, for even more great tips and tricks!
These fabulous tanning systems retail for $46.99, but Sinead generously donated TWO full kits (winner's choice of color) to Fashionable Gals for a Cure, which you can check out here.  Each kit is paired with other fabulous prizes (like a cashmere shawl).  Thank you, Sinead!  & to the rest of you- Happy Tanning!