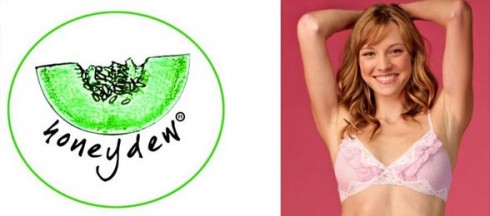 Honeydew Intimates is a chic lingerie boutique based out of California.  You may have seen their products at Nordstrom, Bloomingdale's, or Dillard's- however, the real treasury of intimate apparel is online!
If you're looking for something flirty & fun, sexy and seductive, or just a little underwear flair, then Honeydew is a must-see!  Prices are reasonable, especially since these aren't cookie cutter Wal-Mart panties and bras!  There's a large 3 for $36 section, and main categories include:  Boyshorts, Thongs, Bras/Brallets, and Lounge/Sleepwear.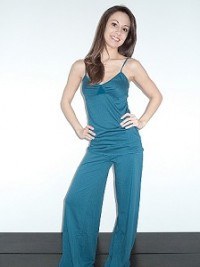 Stylish Sleepwear such as the Triangle Front Cami (above) capture the free spirited fun of Honeydew Intimate products!  The sleep & lounge wear is made of easy going, comfortable material that will keep you relaxed without leaving you embarrassed if unexpected company drops by…  Unlike those worn out plaid pants and raggedy old tee!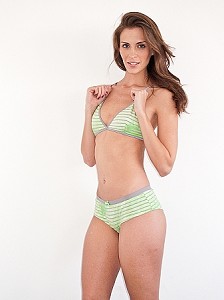 This Ombre Striped Boy Short and Bra set is one of my faves; I'm partial to anything lime green!  The set is comfortable and relaxed for daytime, but has has an attractive that will let it flow right into evening, uh, activities.  Who said you can't be sporty AND sexy?
Honeydew Intimates very generously donated an Ombre Striped Set, just like the one pictured above!  The set is featured on our Fashionable Gals for a Cure Fundraiser page; look for Prize #2 where the set is paired with a fabulous Ella Moss Top, a Sorrelli Crystal Pendant, and a Gillette shave duo (worth $149.68)!  It's a prize designated for fashionistas with impeccable taste only- which of course, means you!
To stay updated on all things Honeydew, you can follow them on Twitter or Facebook!