On days where it's windy and gray outside, there's often nothing better than a hot shower…Â  Unless, of course, your shower smells like delicious seasonal treats!
Philosophy's Haunted House Trio ($30) is one of my favorite way to relax away the stress of a long, cold day.  It contains 3 six-ounce bottles of Pumpkin Spice Muffin, Black Licorice, and Caramel Apple.  I reviewed the Black Licorice last year and still have my beloved bottle; it's perfect for when I need a sugary pick me up without the calories.  Pumpkin Spice Muffin is my favorite of the three, and one of my all-time favorite Philosophy scents; it's like an amazing fresh from the oven Autumn cake.  Love it!  Caramel Apple is my least favorite, only because I don't find the smell particularly strong.  If you prefer more delicate scents, or need a body wash that will make your shower fun but won't interfere with your perfume later, Caramel Apple is a great pick.  You can also purchase *just* the Pumpkin & Apple Scents in the Trick or Treat Duo ($20).  One helpful customer review on the site suggests mixing both together for an amazing fall scent!  Caramel Apple is also available by itself, as a body wash or lip gloss!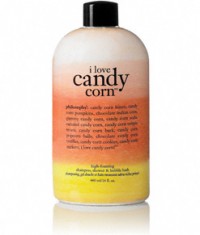 As much as I love the Haunted House scents, "I Love Candy Corn" was the seasonal scent I most craved this season.  When Philosophy agreed to send me a bottle for review, I could not WAIT for my mail to arrive!  I could have kissed the mailman when he finally dropped off the package!
"Calling all candy corn lovers! this oh-so-sweet candy corn scented shampoo, shower gel & bubble bath is sure to be a fall favorite for the whole family. The high-foaming formula provides an ultra-rich, moisturizing lather from head to toe to gently cleanse and condition skin and hair."
I've eaten bags buckets barrels …  well, let's just say far too much candy corn in my lifetime.  Therefore, as delicious as I find the scent, the thought of actually eating any makes me a little queasy.  This body wash is the perfect fix!  It's much more practical than buying a bag of candy corn just to smell (don't judge me!) as it makes showering feel like I'm inside the plastic pumpkin of a very enthusiastic trick-or-treater.  Mmm…