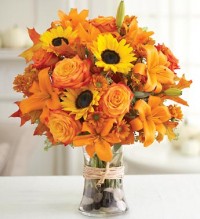 (Fields of Europe for Fall)
I probably spend close to the same amount on flowers as I do cosmetics over the course of a year…Â  A beautiful bouquet is one of my favorite ways to celebrate, cheer up loved ones, or just send a fabulous surprise.
I've personally used 1800Flowers multiple times for a range of occasions, from funerals to birthdays and everything in between.  Each time, the flowers have arranged fresh and fabulous- and exactly on time!  I've received many excited phone calls from those who've received my 1800Flowers selections, which has left me as delighted as they were!
What thrills me about 1800Flowers is that they have more than your standard bouquet- there are all sorts of flower "creations" to choose from!  Last year I sent a friend a bouquet that was in a vase fashioned like an ice cream cone, filled with carnations in the shape of a scoop of ice cream (white, with red ones on top as a "cherry")!  I didn't see that bouquet on the site any longer, but I did find this: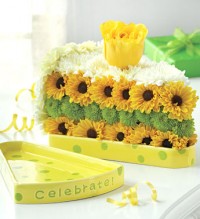 (Slice of Life)
I can't think of a better way to let a loved one know you're thinking of them on their birthday, or another special "celebration" event!  There are arrangements that will please anyone, child to adult, male or female…  And if flowers aren't quite what you're looking for (or you want to send another thoughtful gift as well), there's a selection of plants, gift baskets & food.  There are plenty of delicious snacks, from brands like my personal favorite- The Popcorn Factory!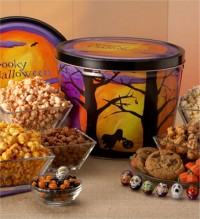 My mom sent me a tin like this my freshman year and it was a total highlight; everyone was jealous!  There are also baskets from Martha Stewart and Starbucks, for more grown up fun : )
1800Flowers also sponsors so fab giveaways!  If you fan them on Facebook and Twitter, you'll be updated about the arrangements they give away weekly- one for a beautiful birthday arrangement (which I won last week!) and then "your choice" arrangements every Friday!
And, that's not all!  1800Flowers donated a $50 Gift Card to Fashionable Gals for a Cure!  Look for Prize #17, where the gift card is paired with an adorable Dililo.com Audrey Hepburn Tee, En Pointe Skincare items, and Calypso S.H.O.P. Totes (a $150.89 value)!  If you win this prize, I recommend treating your mom to some flowers- and maybe she'll return the favor with a snack tin!