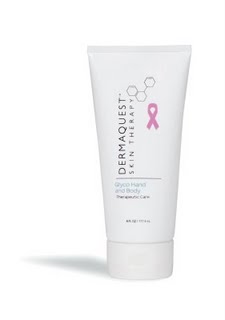 "Take charge of your skin and reverse the signs of aging. With DermaQuest Skin Therapy Glyco Hand and Body Cream, genuinely younger looking skin is closer than you think. Glycolic Acid improves skin texture by gently exfoliating and evening out discoloration. Shea Butter hydrates even the driest skin, leaving it soft and supple."
I have terribly dry skin, especially on my legs & hands.  My fingers get dry and the tips start peeling, which makes even the cutest manicure look unattractive.  Same for cracked legs that are rebelling against being shaved- dry skin just isn't pretty!
DermaQuest makes fabulous products; I've yet to try the Glyco Cream, but I have sampled some great items (more on that soon).  Products with Glycolic Acid are the best for dry skin, as it helps "resurface" and renew- especially on cracked heels or hands.  The word "acid" always turns me off to food & beauty products, but it really isn't going to burn!  In fact, quite the opposite…  Smoother, healthier skin is in your future with DermaQuest Glyco Hand & Body Cream (6 oz is $41)!
Until November 1, part of the proceeds from every tube of Glyco Cream sold with benefit the Breast Cancer Research Foundation!  Now that's beautiful.
Want to win a tube?  DermaQuest is another amazing sponsor of Fashionable Gals for a Cure, and has donated several Glyco Creams!  You can find them in Prizes #10, #11, #12, #13, & #16– along with products from TJ Maxx, Gillette, Nimli, Scruples, Beautyfix, and many more!  Hurry, because the last day to enter is October 31st (11:59 PM EST)!
Thank you, DermaQuest!