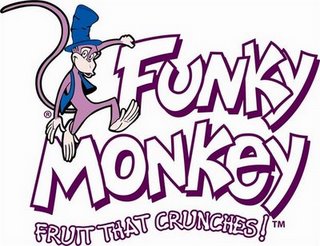 "Funky Monkey Snacks were created to bring delicious and healthy snacks to everyone!  There are so many snacks that are delicious and unhealthy, or healthy but bad-tasting… wouldn't it be great if there was a delicious, convenient snack with the wholesomeness and natural goodness of fresh fruit?  That's what Funky Monkey is all about- we combine the great taste and nutrition of fresh fruit with the crunch and convenience of your favorite snacks.  We do it by freeze-drying full slices and pieces of real fruit using a unique process to lock in the taste, smell, and nutrients of freshly-picked fruit, while creating a fun and satisfying crunch!  Funky Monkey Snacks have everything you need and nothing you don't.  Each ounce of Funky Monkey contains 3 servings of real fruit and contains no added sugars or sweeteners and no artificial colors, flavors, or preservatives.  Our snacks are 100% natural and 100% delicious!"

Funky Monkey Snacks are available in seven flavors.  Three are brand new:  Applemon, Mango OJ, and Pink Pineapple.  I was sent the four delicious original flavors for review:  Bananamon, Carnaval Mix, JiveALime, and Purple Funk.  Out of the original flavors, they are all 100% USDA Certified Organic- Carnaval is the only exception, and it's 70% Organic.
Bananamom:Â  Organic Banana & Organic Cinnamon
Carnaval Mix:Â  Organic Banana, Organic Pineapple, Apple & Papaya
JiveALime:Â  Organic Pineapple & Lime Juice
Purple Funk:Â  Organic Banana & Organic Acai
Applemon:Â  Apple & Organic Cinnamon
Mango OJ:Â  Mango & Orange Juice
Pink Pineapple:Â  Organic Pineapple & Guava
One of the most difficult food challenges for me on campus was getting my daily dose of fruit!  The only refrigerators that were small enough to keep in my room were too small to stock much fresh food, and fruit was always the first to go bad.  Now I have an apartment, but it's still difficult for me to keep lots of fruit around, as anything beyond the traditional apples & oranges tends to be super expensive.
I love fruit, so eating it has never been a problem for me, but I know that a lot of people prefer potato chips when snack time rolls around.  And don't get me wrong, I love my chips!  Crunchy food is just so satisfying!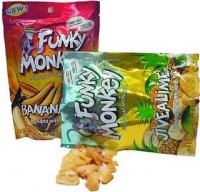 Funky Monkey Snacks are the perfect solution for anyone who can't afford or store lots of fresh fruit, and even more so for those who would prefer a crunch snack.  The small pouches make it easy to take the snacks with you, and you can easily throw them in your bag without worrying that they're going to be ruined by all the odds & ends tossing around in there.
The JiveALime is my favorite, and the first bag to "disappear."  I'm a huge fan of anything pineapple, but the real thing is so much better than artificial flavoring!  The pairing with lime is perfect, and the chips have a very tangy, tropical taste.  I enjoyed the rest of the flavors as well, even though I'm not normally a huge fan of banana- turns out I don't dislike it, I just prefer it dried!
As mentioned, each bag is 3 servings of fruit (the daily recommendation is 4, so these get you 75% of the way).  Each bag also contains about 100 calories and 0 grams of fat.  SO much better than potato chips…  But you don't have to skip the crunch!
Funky Monkey Snacks are available at places like Whole Foods and Super Target.  You can check out the entire listing here.  You can also fan them on Facebook & follow them on Twitter for the latest info, deals, and snacking fun!