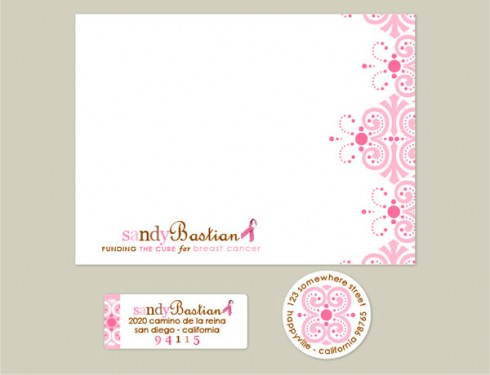 I am a complete stationary & greeting card fiend.  I love sending & receiving mail, but I also collect beautiful cards and prints.  Yeah, I know- weird.
Recently, I received personalized stationary (like the set in the photo above) from Erin Condren.  As beautiful as these notecards, envelopes, and personalized address stickers are…  I won't be saving them.  They're just too gorgeous!  The card stock is high quality, the envelopes are sturdy, and the stickers are perfect for outside adornment.  A lot of the stationary and other "mailables" I have are flimsy material, with delicate envelopes that come with a high tear rate.  Condren's products are the complete opposite- perfect for occasions when you want to impress!
In honor of Breast Cancer Awareness (and her friend Sandy!), Condren has created a line of beautiful pink personalized stationary and cards.  50% of the proceeds from these products will go to Breast Cancer Related charities!  Three styles are available:  4C, Confetti, and Candy Lace (above).  Within each design, you can select whether your prefer flat notecards or folded greeting cards, and a personalized message (i.e. FUNDING THE CURE).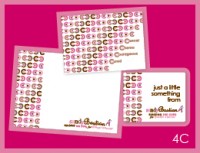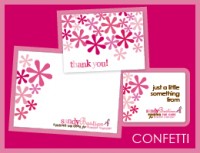 Condren's website also features a range of products that will have you covered throughout the entire year.  Gift labels, calendars, notepads, wrapping paper, you name it…  And everything personalized to your specifications!
Condren also has a super funny blog which I highly recommend checking out.  She's actually got some great product recommendations of her own!
Want to check out more products for a cause?  Check out Fashionable Gals for a Cure– we've got FAB prizes!