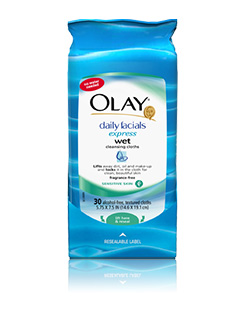 Say hello to my new favorite product…Â  Olay Daily Facials Express (Wet, for Sensitive Skin)!
I'm absolutely terrible about washing my face.  I use my Clarisonic in the shower every other day, but other than that, it's a quick wipe with a damp wash cloth.  If I remember, that is.  And I almost never wash my makeup off before bed.  I know, I know- bad me!
But the Daily Facials Express from Olay?  Pure genius.  And yes, I'm aware that there are plenty of cleansing cloths on the market; I've tried them.  Olay takes the cake.  I keep them on my vanity and actually remember to wash my face every night. I don't really need the whole cloth to wash my face, so I use the extra inches to do a quick once over on my shoulders and chest (areas I tend to break out).
I've been using the Sensitive formulation, but my skin has a tendency to throw fits if not treated with the utmost delicacy.  Since I've started using the Express Facials, my skin has definitely cleared up noticeably, and become softer and healthier overall.  I know some of this is just because I'm washing my face with more frequency- but even if it has nothing to do with the cleansing cloth formulation and all to do with that, what difference does it make?  The new regularity of washing is all because of the cloths!  However, I do believe that the ingredients in the product on the cloth (aloe vera, vitamin E, Olay moisturizer) definitely play a role in my skin's newfound vitality.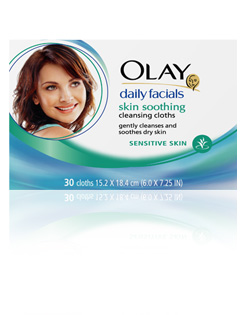 Buy.These.Cloths.  You'll be totally happy with the results!  Oh, and there are other variations available – Express for Normal skin, as well as ones that you moisten yourself (for you lucky ladies who actually have COUNTER SPACE available in the bathroom)!  The Wet Express retail for $5.99 (per 30 pack) and the dry version are $7.49.  I'm lazy, so I do recommend the wet- however, I have the dry as well, and I love them, too!  Both are great to travel with, by the way!  And they'd make great stocking stuffers (*hint hint*)!
~Disclaimer:  I received one pack of the Express and one pack of the "regular" Daily Facials to review.  My review and recommendations are based solely on my own experience, and was not influenced by Olay at all!~