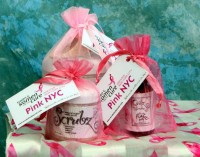 Komen Greater NYC Donation
Every dollar makes a difference! 100% of your donations benefit Komen Greater NYC. The NYC group, like all Susan G. Komen affiliates, work tirelessly every day to find a cure.  Maybe this is the year!
50% OF ALL SALES OF "PINK NYC"  AND "PINK NYC OILZ"  WILL BE DONATED TO THE GREATER NEW YORK CITY AFFILIATE OF SUSAN G. KOMEN  FOR THE  CURE.
Check them out here!
Our 4th ANNUAL FUND RAISER FOR KOMEN GREATER NYC WILL BE HELD ON FRIDAY, OCT. 16th AT 7 WOOD LANE, PLAINVIEW FROM 7-10 PM. WE HOPE TO MAKE IT A HUGE SUCCESS!
Scrubz Body Scrub is another one of the fabulous natural brands I've discovered recently.  Each scrub is formulated to smooth, soothe, and pamper your skin with a blend of natural oils and beautiful scents to give you an over the top shower experience and a wonderfully close shave…  Yes, that's right- you can use Scrubz Body Scrub to shave!  What a fantastic idea; after you're done exfoliating your skin and priming it for shaving, rinse of the "scrub" ingredients and use the oils left behind as a wonderful substitute for shaving cream!
What I really love about Scrubz, aside from the genius shaving abilities, is the huge range of scents- this is one brand where there truly is something for everyone!  Fall Harvest is the newest addition to the lineup- "Imagine a crisp, sweet pomegranate mixed with tangy apple and sweet, luscious pear!"
Other scents include:Â  Citrus Burst, Citrus Zest, Pink Grapefruit, Jasmine Honeysuckle, Lavender, Miss Floral, Vanilla Flowerz, April Showerz, Breezes, Ginger Teaze, Pomberry Zing, Sweet Milk & Honey, Sweet Pear, Warm Vanilla, Wild Cherry Almond, Cool Mint, Exotic Musk- and many more, including Unscented, Men's, and Children's!
You can also select 4, 4 oz Scrubz for $32 (*hint hint- Holiday shopping!), which I think is a wonderful idea!  There are also Body Butterz and Massage Oilz to choose from, as well!  However you want to treat your body, Scrubz has gotcha covered.
Scrubz sent me a sample of their "Pink NYC" Scrub, and I'm in love.  I consider myself a bit of a body scrub connoisseur, as my skin has a tendency to be dry and bumpy (around my arms) if I don't exfoliate regularly.  As I mentioned, I've never had a scrub that was also a shaving product, but Scrubz does the job!  I look forward to trying more scents in the future- I have my eye on Wild Cherry Almond!
Want to try Scrubz for yourself?  Well, I strongly encourage that you either order from their site or check out the Fund Raiser they're participating in!  Of course, if you don't live in NY, but still want to support Breast Cancer Research AND try Scrubz…  I've got your back.  The fantastic people at Scrubz donated a 16 oz Pink NYC Scrub to Fashionable Gals for a Cure!  Check it out and enter to win!