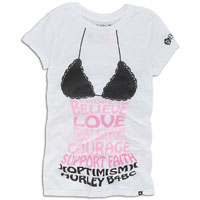 How adorable is this Hurley tee?  It's like an updated version of those aprons with the beach body outlines on the front…  But this is actually stylish!
The Hurley Breast Cancer Awareness Tee will benefit B4BC- with a whopping 100% of proceeds from the sale of each shirt being donated!!!  Very few products I've posted about this month boast a ONE HUNDRED PERCENT donation!
Sexy, flirty, and feminine, this shirt sports a slew of positive words that will boost your mood every time you put it on!  If you're not quite ready to wear your "bra" outside like this, this super soft cotton top will be fabulous to wear as lounge wear.  Hurley was generous & sent me one for review and I'm absolutely in love with the delicate, luxurious material.
You can check out this hilarious, inspirational B4BC top at Hurley, where it retails for $19.99.
Looking for more Pink fashion?  Want to win amazing prizes?  Check out Fashionable Gals for a Cure by October 31st and get your win on!