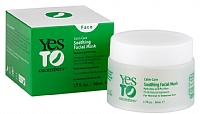 "We all need an extra boost from time to time. Our Aloe and Cucumber Soothing Facial Mask delivers a gentle moisture boost to tired, sensitive skin.
This super-charged, nutrient-rich mask leaves your skin soft, silky and completely cushioned. Who could ask for more!"
Igredients (Partial List):
~Organic Cucumber Extract
~Dead Sea Water
~Organic Olive Leaf Extract
~Organic Jojoba Oil
~Organic Broccoli, and Green Pepper Extract
~Spinach Extract
The Calm Care Soothing Facial Mask from Yes to Carrots has quickly become a staple in my beauty "wardrobe."  My skin is very reactive, and becomes inflamed from even gentle touching.  Even applying my moisturizer in the morning takes it from calm to crazed.  What a drag…
The Soothing Mask is a smooth, creamy mask that applies richly – like frosting on a cake.  The layer doesn't have to be thick- in fact, it doesn't dry if applied to heavily- but even a small amount feels luxurious.  I'm sure this is due to the decadent blend of Organic and "exotic" ingredients…  I was very surprised to see ingredients like broccoli and spinach on the list, but it makes sense that if they're good to put in your body, they'll be beneficial if you put them on your body as well!  This beautiful blend from Yes to Carrots has made it very easy to get your vegetables!
And as you know- green's a great way to combat red.  I've started using this mask whenever I have a particularly bad flare up, and it definitely helps to calm my skin.  I like to apply it before I do my makeup for a night out, as it also has a softening effect on my skin that helps my makeup going on smoother and more evenly.
The Calm Care Mask is part of Yes to Carrots' line of products for Normal-Sensitive Skin.  Yes to Carrots products can be purchased at your local pharmacy (Rite Aid, Walgreens, etc.).