Thanks to MyBlogSpark & Nature Valley, I recently got to try Nature Valley's new selection of Granola Nut Clusters!
"Bringing natural goodness to snacking since introducing the first granola bar in 1975, the folks at Nature Valley are proud to introduce bite-sized Granola Nut Clusters.  Imagine a lightly sweet, yet salty, combination of roasted pecans, cashews, and peanuts gently rolled in Nature Valley granola and a touch of honey.  It's a taste of nature, one delicious bite at a time."
I love Nature Valley Granola bars, and have been including them in my back-to-school quick breakfast & early afternoon snack routine.  As much as I love them…  I enjoy the Nut Clusters even more!  They're just as convenient and delicious, but have even more snack possibilities.
There are four varieties available:  Honey Roasted Peanut, Roasted Almond, Roasted Cashew, and Nut Lovers (which is a mix of all three).  Yum!!!  My personal favorite is the Nut Lovers, as I can't decide which nut is my favorite…  And I think my boyfriend agrees, as that bag was the first to go!
The bags close easily so you can throw them in your bag without worrying, then pull them out discreetly in class without all the rustling of opening a granola bar wrapper.  And the "cluster" aspect makes them super easy to share, and since there's more than one serving in each bag, you won't be disappointed when a friend wants half your snack!
What else do I love about these delicious Nut Clusters…  There are just so many things!  How about the fact that they're all natural?  Or that 7 clusters (each one is about the size of a half dollar) has 160 calories- in the Nut Lovers version, at least (I don't have the other bags handy as I write this).  Nuts are a healthy inclusion into any diet, although Nut Clusters are a much better version than the heavily salted mixes!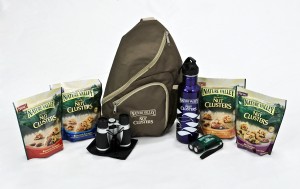 The wonderful companies that sent me a delicious Nature Valley Granola Nut Cluster "kit" would like to share with one of you, as well!  You'll win all the items pictured above- a 5 oz bag of each variety, binoculars, a flashlight, a sling-backpack, and a water bottle!
The contest will be open to US & Canadian residents from now until midnight EST on September 30, 2009.  Please complete the mandatory entry before moving on to the extra entries!  *NOTE- If you are notified that your comment is marked as spam, DO NOT WORRY!  It has NOT been deleted; it simply needs to be approved by me.  I promise, I approve every single legitimate entry before I close a contest, so everyone will get a fair shot!  You DO NOT need to repost a comment that is marked as spam!*
Mandatory Entry:Â  Tell me your favorite thing about nature!
Extra Entries:
~What's your favorite snack and/or which flavor are you most interested in trying? 1 Entry
~Subscribe to my blog (box on sidebar).  1 Entry
~Become a fan of our new facebook page!
~Follow me on Twitter @fashionablegal 1 Entry
~Tweet the following message (can be done 2x daily).  1 Entry per Tweet
"RT Win a Natural Valley Granola Nut Cluster prize pack- includes sporty extras- from @fashionablegal http://tinyurl.com/ya6nted ends 9/30"
~Blog about this giveaway & leave me the link in the comment.  ~5 Entries
Good luck, ladies!