There's a bit of bite creeping into the air, and you know what that means…  Fall!  It's a time of changes and traditions- Back to school, warmer clothes, holidays- and even though that means retiring the flip flops and going to bed earlier, there's plenty of fun to be had.  Pretty plaids, sweet sweaters, comfy jeans, and if you really want to mix things up- new hair color!
It seems to me that this year, Fall's top hair color trends have come straight from the greatest changeling of all- nature!  The beautiful shades we'll seen be seeing on the trees are the same shades all the most fabulous fashionistas will be sporting.  Here's a quick overview…
Leaves:Â  Orangey-Brown
You:Â  Rich Brunette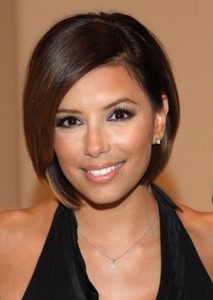 Eva Longoria-Parker is sporting a gorgeous bob in a rich, flattering shade of brown.  She looks classy and mature, rather than trendy.  I'd totally recommend bringing her photo to your stylist if you're thinking of going the brunette route!
DIY for $9.49:Â Â  Nice 'N Easy At-Home Color
Nice 'N Easy hair dye is one of my faves- the ColorBlend Technology it implements gives natural looking color with highlights, lowlights, and a glossy finish.  The shade palette they offer is diverse enough to ensure that there's something for everyone.  Also, it's permanent color, so it won't rinse out in the shower or fade unflatteringly!  The line also offers colors designed specifically for dark hair, so nobody has to miss out!
My top picks (Cool, Neutral, Warm):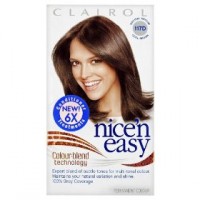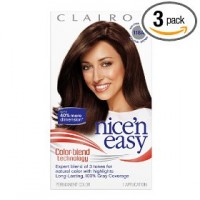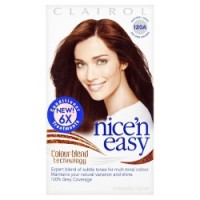 (Natural Medium Cool Brown, Natural Medium Neutral Brown, Natural Dark Golden Brown)
___
Leaves:Â  Bright Red
You:Â  Rich Plums & Cherries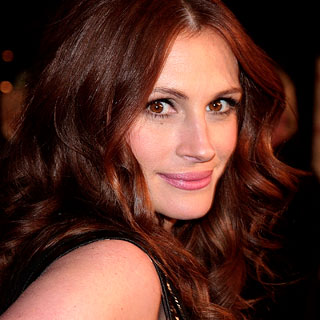 Julia Roberts has such lush, lovely hair.  I absolutely adore when she adds a burgundy tint to it!  It makes her eyes pop and her skin glow.
DIY for $8.99:Â  Natural Instincts Hair Color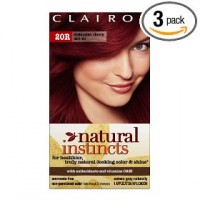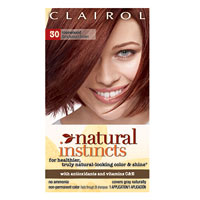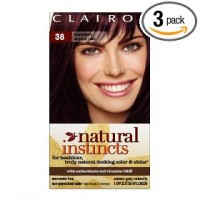 (Malaysian Cherry, Rosewood, Egyptian Plum)
There are so many different ways to go with red, but I suggest staying with a shade that's relatively neutral and warmer, at least for fall.  My pick is the Cherry, but I like drama and contrast with my fair skin.  The plum is a safe way to dip your toe in without going over the top, especially if you're already a brunette.
___
Leaves:Â  Yellow
You:Â Â  Pale Blonde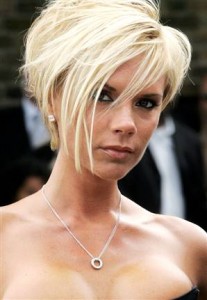 A veritable style goddess, Victoria Beckham rocks blonde like nobody else.  I love this look, even if she's sporting a different style currently.  Of course, peroxide blonde is a hard hue to pull of, so you might want to stick with a more wearable shade this season!
DIY for $13.99:Â  Clairol Perfect 10 Hair Color
(Cool-Neutral-Warm)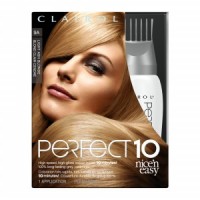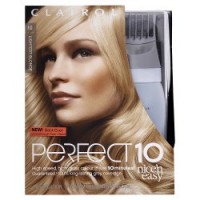 (Whirlwind Blonde, Blondies to Go, Runway Blonde)
I love rockin' the blonde look from time to time; I think this is a great time to pull of the look, as it will be balanced out by all the jewel-toned fashions!
___
So, which shade am I currently sporting?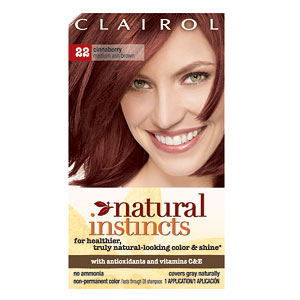 Natural Instincts #22- Cinnaberry.
My hair is normally a plain, slightly mousy brown which I find completely BORING.  However, Cinnaberry has really spiced it up, giving me a much warmer look.  I *did* leave the dye on for a few minutes too long (okay, try 10- I was watching Drop Dead Diva) so it's a tad darker than on the box- but either way, I love it!
To find your perfect formulation AND shade, visit Clairol online!