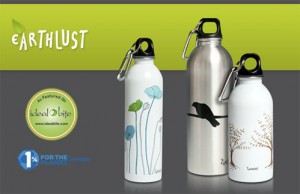 "EarthLust bottles are hand made from high quality #304 (18/8) food grade stainless steel, which is naturally safe unlined. Our bottles are a custom design – not stock bottles. Most of our line is limited edition – new art will arrive soon! We use non-toxic paints and BPA-free safe polypropelene #5 caps. Select from our 13 ounce, 20 ounce and 1 liter sizes. Each bottle comes with a high quality carabineer and optional sports tops are available for the 13 and 20 ounce sizes. We are happy to bring our line of bottles to a store near you – every bottle helps to eliminate waste and gives you a safe and stylish way to have a cold beverage near you at all times!"
If style, convenience, and environmental consciousness is what you aim for, EarthLust is the company for you!  They are fabulous purveyors of stainless steel bottles and I'm absolutely obsessed!  The bottles are lightweight and super convenient- there's a carabineer attached to the top of each bottle.  I carry my bottle in my purse, then use the clip to hook the bottle to the strap- then I don't have to fish around when I need a drink.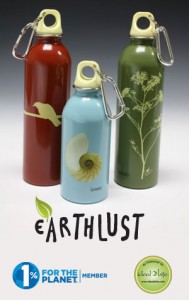 The 1 Liter ($21) bottle is perfect for a long day of classes- plus, I find that carrying a full liter of water is a little heavy, so I'm motivated to drink the water!  The 20 oz ($18) bottle is probably a better size for people who don't drink water as constantly as I do- my boyfriend loves that size.  We actually use it for coffee in the morning, as it holds two cups- one for each of us!  Since it's not a thermal mug, it doesn't keep the coffee warm like a mug would…  However, EarthLust also has two styles of 20 oz thermal mugs ($23) available, so you're covered on that front as well!
There are also 13 oz bottles ($16) available for the days when you're just going out for a bit, or perhaps want to bring a little bit of juice or soda to have with lunch.  You can also purchase a sports style cap and insulated bottle bag ($15) to make your EarthLust even more convenient!
What I really love about EarthLust's bottles (aside from how safe they are for beverages) is how unique and beautiful they are!  Each size has a whole selection of beautiful pieces of art on them, and the selection is updated frequently.  There are trees, birds, flowers, and other abstract designs.  There are simple silver bottles with black designs, and then more colorful options- something for everyone!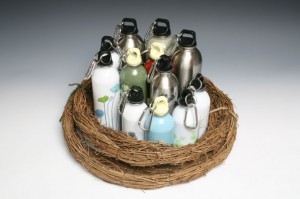 You can fan EarthLust on Facebook- they are donating $1 for each person who fans them to the Blue Planet Run Foundation!