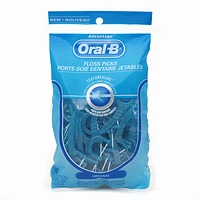 I'm really terrible about flossing. Brushing? No problem. It's easy, relatively quick & painless, and doesn't require me sticking my fingers in my mouth. However, flossing is something I hate. Because of that, it's really rare that I actually bother to do it!
As if they knew what a crappy flosser I am, the awesome people from Oral-B and Crest sent me a package of oral care "goodies." And, to be honest… I totally tossed aside the flossing-related items and went right for the toothbrush. However, the other night I was eating popcorn and of course, got several bits wedges in between my teeth. After oh-so-sexily trying to pull the pieces out myself, I remembered the floss picks. Aha!
I am officially in love with Oral-B's Advantage Floss Picks! While they haven't yet made me a routine flosser, I've certainly become a lot better. And I've stopped sticking my fingers in my mouth after particularly piece-y meals. Here are some of the great benefits:
~The dual-action Texture-slide is designed with a soft bristle-like texture to help remove plaque and food along with a soft, velvety material to slide comfortably between your teeth.
~The ergonomic handle makes it easier to clean your teeth and gums–even your back teeth–to help you floss like a pro.
~The contoured shape enables you to easily reach your top and bottom teeth so your fingers will stay where they should–outside of your mouth.
~With the option of Original or Cool Mint flavor, your mouth will feel clean and refreshed every time you floss.
~Instead of flinging food particles everywhere, now you can floss without the mess, transforming an icky chore into a daily routine.
You can pick up the floss picks at your local drugstore, supermarket, or mass retailer. Drugstore.com has them available for $3.49!
Now, I do understand that it's not great for the environment to throw away extra garbage… So I've got some options for those of you who do fine flossing the normal way, too!
Crest has a selection of Glide Floss that makes the flossing less of an irritating chore. You can choose from five types: Original, Comfort Plus, Whitening with Scope, Shred Guard, and Deep Clean. If you're not sure which one you should try, you can use the quick and easy "Glide Matchmaker" and find out! Each variety is available in the same places you can find the picks, and they retail for about the same price. Now, there's no excuse not to get your floss on!