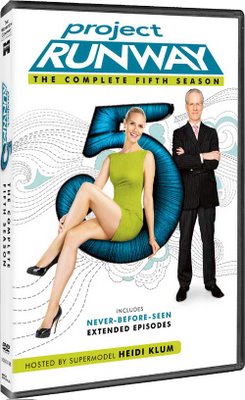 It's back, bitches!  Project Runway Season 6 premieres this Thursday (August 20th @ 10 PM), at it's new home- the Lifetime Channel!  I cannot WAIT!
I'm hoping it rocks as much as Season 5 did!  I've been prepping for this new season by re-watching last season, and my excitement is peaking!!!
For anyone who doesn't know what Project Runway is (aka anyone who lives under a pile of last season's fashion!), Heidi Klum hosts a brood of hopeful designers from all over the country through a series of challenges that test their creative skills, construction abilities, patience, and sometimes, mental state!
Season 5 (back when it was on Bravo) featured some amazing challenges!  They included:  designing with materials from the grocery store, outfits for the Olympic Team, designing with car parts, creating outfits for drag queens, making fashion forward career outfits for recent grads, wedding gowns, and so much more!
Although not all of my favorite designers made it to the finale, and Korto (my favorite designer) didn't win- the show was still so much fun to watch, re-watch, and then watch again!  And it was even better on DVD, for the obvious reason of NO COMMERCIALS, but also because there was more footage, new scenes, and even more fashion!
Even though it wasn't my fave, Leanne's winning collection really was stunning!
You can pick up Season 5 on DVD from Amazon for $19.99 here.
It's also available from Barnes & Noble at a member price of $20.15 (in store or online here).
I'll be doing recaps of the new season every week, so stay tuned!