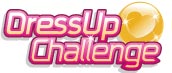 I'll admit it now and get it out of the way- I'm as easily amused as a five year old. And, I occasionally become addicted to online games. A few days ago, I was checking out Lifetime's website (because they're the new home of Project Runway!) and found a new one. Uh oh…
Dress Up Challenge is basically the coolest thing, ever. There are two "games" you can play- one's focused on designing, and one's a styling/makeover game. In the first one, you get to virtually design pieces of clothing by choosing from a huge selection of clothing styles (shirts can be customized in the sleeves, torso, and bust area, etc.). Once you have a template for the clothes, you can select colors, patterns, graphics, and other adornments. When you're done, you can put them in your "closet," which brings you to the second part of the game!
In the "Do a Makeover" section of the site, you get to personalize every aspect of your model. You pick her skin tone, eye color, hair style and color, makeup style and shades, accessories– and of course, the clothing!!! There's a huge selection of items (everything from bras to tights, coats to purses, tops and pants, skirts and dresses) already, plus all the pieces you design to play with. New items are constantly being added, and each day you log in you get a "gift" of a new item to add to your closet.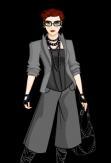 Sorry for the tiny image- but the photo above is of my "signature look."  It's my favorite of the billion outfits I've created so far, so I thought I'd share!  There are different backgrounds so you can "set the scene" for your girl, too!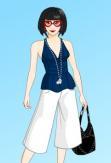 I've been watching past seasons of Project Runway lately, and Dress Up Challenge totally engages the creative urges it causes, without forcing me to engage my shitty sewing skills.  And, if the show is making you feel competitive, too- there are frequent design challenges (a recent fave was designing an outfit for the first lady) that will earn you points and recognition- even if it's only online!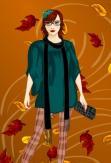 Oh, and it's also a really fun way to decide what will look spectacular in your fall wardrobe!