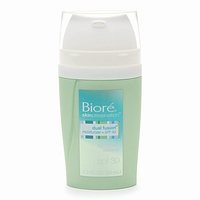 I got wind of a really neat contest today, and I wanted to share it with all of you!
Biore is giving away 5 Dual Fusion Moisturizers each day, now through August 24th!  All you have to do is become a fan of their Facebook page and then fill out a super short survey about your skincare (just click on the "win" tab once you've fanned them).
I haven't tried the Dual Fusion Moisturizer yet, but I'm really interested in doing so.  My skin's been rebelling against every moisturizer I own (which is a LOT) and acquiring some sun damage in the meantime.
Part of why I'm so interested in trying the Dual Fusion is because there are actually two chambers within the bottle- one contains a moisturizer and one contains a sun protection formula (SPF 30)!  Biore says that by keeping the two formulations separate until the pump is used, both preserve their effectiveness further than if the two were combined in the bottle like most skincare products.
Other bonuses?  The formulation is Oil Free, Dermatologist Tested, PABA free, Hypo-Allergenic, Non-Comedogenic, and according to Biore's tests, 91% of women said their skin was "refreshed and hydrated after just one use."
PS- Although I haven't used this moisturizer, I have a total addiction to Biore's pore strips!