I found a really great article on MSN.com about easy ways to cut calories throughout the day.  Here are some of my favorite tips…  (You can read the full article here.)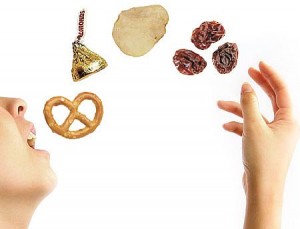 "Calories can be cruel. Sweat through a 30-minute workout and you can torch 200. Take three gulps of a foamy frappuccino and you're right back where you started. But slashing those suckers can be as effortless as piling them on. Just look below to find out 78 ways you can cut 100 or more calories at a pop. From picking the right slice at Pizza Hut to skipping the whip on your latte, they'll add up so fast, you won't miss a thing — until poof! Your love handles are gone." -Kate Grip Denon, "Women's Health"
~Swap OJ for the real deal — one fresh orange.
~Stop eating when you hit the crust. The edges and bottoms of baked goods are especially caloric because they absorb the butter used to grease the pan.
~Slather your bread with mustard rather than mayo and save 80 calories per tablespoon.
~Make your burger turkey, not beef.
~Making homemade mac 'n cheese? Cut 2 tablespoons of butter from the recipe.
~Dip your nachos in salsa rather than guacamole.
~Mix your vodka with Red Bull Sugarfree, not cranberry juice.
~Go for grill marks. Order a flame-broiled chicken sandwich rather than one that's breaded (and usually fried in oil).
~Drink sparkling water instead of soda.
~Satisfy a crunch craving with baby carrots, not potato chips.
~Go with the baked potato (butter only), not the mashed, as your side of choice.