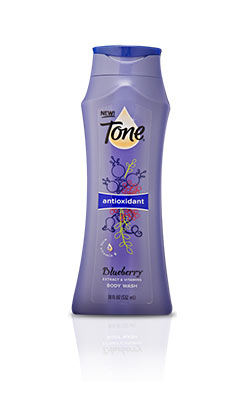 "Feeling blue? Lucky you! Your shower must be a blueberry-infused sweet escape courtesy of new Tone Antioxidant Body Wash with Blueberry & Vitamins. It's the most delicious way to help defend against environmental stresses that can leave you feeling dull. But from the look of your radiant, get-noticed skin, you already know that."
Happy National Blueberry Month, ladies! I'll be celebrating in the shower, thank you! No, not with that weird new razor that turns into a vibrator… But with Tone's newest body wash, the delicious Blueberry scented one that makes my shower smell like pie!
I first discovered Tone's line of body wash while browsing at my local CVS. In Vermont we didn't have the wonders of CVS or anything (aside from the ER) that was open 24-hours, so heading over to the drugstore at 11 PM to check out what's new on the beauty circuit is rather thrilling for me. Don't judge! Anyway, Tone's body washes caught my eye the other day when I saw "Mango" on one of the labels. That word is capable of stopping me completely, whether it's a flavor or a scent… I freakin' love Mango.
Mango (well, Mango Splash) is one of the original Tone body wash scents, and is accompanied by: Tahitian Vanilla & Orchid, Water Lily & Sugar Cane, Almond Milk, Island Mist, Wild Rose & Coconut, and Sugar Glow. If I wasn't so constantly broke, all of those scents would be mine…
But back to the blueberry. The beautiful, blissful, blithe blueberry. I feel like I'm in a decadent baked good, or the sexier half of a very sophisticated PB & J. It's heavenly. I didn't know I loved Blueberry so much, but Tone has shown me the way. Alright, I'll stop waxing poetic and making everyone feel uncomfortable; here are some of the great features of this body wash!
Antioxidants: To help against daily environmental stress. The antioxidant in the rich, creamy lather lets you laugh in the face of life's stresses, while leaving your skin feeling nourished and healthy.
Moisturization: The moisturizing formula features Vitamin E, Vitamin A and blueberry extracts for a luxurious everyday treat. Plus, the cream body wash rinses clean and soothes skin, creating a conditioned, hydrated feel.
Fragrance: The tantalizing blueberry scent excites the senses and leaves your skin feeling replenished and ready to take on the day.
I like to use shower gel to soothe my legs after I shave them (I use shaving cream, but the extra dose of moisture keeps 'em happy) and I would heartily suggest using this in combination with Satin Care Wild Berry Shave Gel. I haven't tried it yet, but I'm guessing the combined smell will be amazing.
Buy It: Although I haven't seen the blueberry wash in MY local drugstore, it did become available in June. Look for it at your local drugstore, supermarket, or other mass retailer (Target, Wal-Mart, etc.). It's a very reasonable $3.99 for 18 ounces!!! If you prefer your body products in bar form, 2 bars will cost you $2.29 and 6 bars will run you a still modest $4.49- very budget friendly!
WIN IT! The lovely lady who sent me a bottle of Tone Antioxidant Body Wash would like to do the same for you! ONE winner will receive their very own bottle and get to experience the fresh-baked goodness! This contest will run until midnight on July 14th and is open to US & Canadian Residents. Comments can EITHER be submitted as a comment below OR emailed to me at thefashionablegal@hotmail.com. Please submit an individual comment OR email for each entry; if you do something that gets you two entries, leave two comments or send two emails!
Mandatory Entry: Tell me what body wash/shower gel you use now (brand, scent, etc) and if you like it AND which Tone scent you'd like to try the most. If you've already tried one (or more), I'd love to hear what you think!
Extra Entries:
Send Tone's "Fearless Woman" forward by adding your advice to the list and then sending to a friend (find it under "daily distractions"). Leave me a comment with the advice you added! ~1 Entry
Click on the Arom-a-Matic and play the game (takes 10 seconds!) and tell me which product result you get. It doesn't have to be the product you're most interested in trying. I got Wild Rose & Coconut, in case you're interested : ) ~1 Entry
Subscribe to my blog (box on sidebar). ~2 Entries
Follow me on Twitter @fashionablegal (leave your ID in comments)~2 Entries
Tweet the following (w/o quotation marks) & leave a direct link to the tweet ~1 Entry per tweet, can be done 2x daily
"RT WIN New Tone Blueberry Body Wash w/ Antioxidants 18 oz bottle! Birthday Bash Giveaway 7 of 15 @fashionablegal http://tinyurl.com/ljxb3b"
Enter any other Birthday Bash Giveaway (can come back & do this when new giveaways are posted) ~1 Entry per Giveaway
Blog about this giveaway, leave a direct link in your comments! ~5 Entries