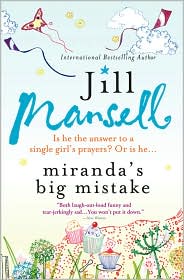 Remember when I reviewed Jill Mansell's book, An Offer You Can't Refuse? It was her American debut and at least in my opinion, it was a big hit! Well, the excellent folks at Sourcebooks gave me the opportunity to review her second novel to debut in America! It's called Miranda's Big Mistake, and it totally solidifies my opinion of Mansell being a phenomenal writer!  From the publisher…
"Miranda is thrilled with Greg. He's gorgeous, funny, and practically perfect. Greg thinks Miranda is great, but he hasn't told her everything about himself. After all, even the sweetest girl is likely to be put off by a man who's left his newly pregnant wife. But there's now way she'll ever find out… is there?
When Greg inevitably breaks Miranda's heart, her friend Danny is there to cheer her up, and they quickly wreaks an unforgettable revenge. Miranda's now ready to move on to another affair – but will Danny get a chance to tell her he's in love with her himself…"
For every girl who's had a crappy, less than honest boyfriend, or a recent breakup- this book is going to make you feel so much better.  The plot is complicated, stretching it without being unbelievable- I love how Mansell weaves characters together in a series of mishaps and coincidences- and makes you laugh out loud.  Her characters are approachable and the story pulls you in, as if you're listening to a friend recount her latest dating disasters.    It's a hard book to put down!  It's a book that I'm passing on the friends and I know will get passed on to their friends because it's such a great story!
Once again, I suggest bringing Mansell's literature to the beach.  While her stories are simple, they're very followable, so you don't have to worry about forgetting what's going on if you get distracted by the ice cream stand or a game of volleyball!  They're easy to pick up and put down several times; I kept my copy around while I was watching TV, although after my favorite show ended, I forgot to put the book down again when the commercial break ended.
I love Miranda's Big Mistake & Jill Mansell so much that I want to give a copy to one of my fabulous readers!  Books are one of my favorite birthday gifts, so it seems appropriate!  The giveaway ends at midnight EST on July 14th; open to US and Canada!
***While many comments are coming through just fine, I AM getting some complaints that people are having theirs disappear.  You can EITHER leave a comment on the post OR EMAIL ME at thefashionablegal@hotmail.com  If you choose to email, please send a SEPARATE email for EACH ENTRY!***
Mandatory Entry:Â  What was the last book you read, or what book are you currently reading now?
Extra Entries:
Sign up for the Sourcebooks newsletter (bottom right corner) ~1 Entry
Check out other titles published by Sourcebooks and tell me another one you'd like to read ~1 Entry
Subscribe to my blog (box on sidebar) ~2 Entries
Follow @Sourcebooks on Twitter ~2 Entries (leave your Twitter id in your comments)
Follow me on Twitter @fashionablegal ~2 Entries
Tweet the following (copy & paste the following w/o quotation marks) ~1 Entry per tweet, 2x daily
"RT WIN Jill Mansell's "Miranda's Big Mistake" just released @fashionablegal Birthday Bash Giveaway 6 of 15!  http://tinyurl.com/osg8zw"
Enter any other Birthday Bash Giveaway (can come back & enter when new ones are posted) ~1 Entry per Giveaway
That's 23 entries, more if you tweet more than once!!!