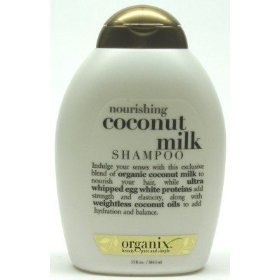 "Organix is one for all of us who aspire to make better choices and are more aware of the integrity of ingredients. Organix formulas contain organic active ingredients and are sulfate free and paraben free… plus, they smell absolutely incredible! So, go ahead… indulge your hair the way nature intended!"
Since I color, blow dry, and flat iron my hair on a regular basis, I try to take extra good care of it. While there are a really great selection of hair products on the market today, it's hard to find ones that are both eco-friendly and affordable while still getting the job done.
Recently, I was given the opportunity to try a selection of products from Organix, a brand that supplies products which fit all of those criteria! Organix products are free of sulfates & parabens (icky ingredients found in many shampoos and conditioners), are not tested on animals, and are safe for color treated and bleached hair! The formulations are very gentle, yet cleanse thoroughly and leave hair in perfect condition for all the abuse I lay out on a daily basis. I'm also really thrilled about the formulation of their packaging: " Organix bottles are eco-friendly, manufactured from materials containing recycled post-consumer resin. All labels are printed utilizing environmental inks and compostable label film made from annually renewable resource corn, not from petrochemicals."
What I really love about Organix is the huge variety of scents offered: Coconut Milk, Mandarin Olive Oil, Tea Tree Mint, Shea Butter, Vanilla Silk, Whitetea Grapeseed, Mocha Espresso, Cucumber Yogurt, Pomegranate Green Tea, Lavender Soymilk, Grapefruit Mango Butter, and Passionfruit Guava! That's a full dozen types to choose from, and since each type is formulated to address specific hair needs, you're guaranteed to find a set that will be perfect for pampering your hair. Organix has made product selection easy by including a description of ingredients and benefits on each product page.
After checking out all the different shampoos and conditioners available, I selected the Grapefruit Mango Butter as the first one I wanted to try. I've been on a summer-appropriate citrus kick, but the promise of hydration really caught my eye. This is what Organix has to say about the blend: "This tropical exotic blend of vitamin and nutrient rich organic grapefruit extract helpt to nourish and hydrate, while organic mango butter and essential oils helps moisturize and enriches your hair, along with sunflower oil for added moisture and a shiny, silky and frizz-free finish."
I really liked the scent, as did my boyfriend… He's always digging around in my collection of shower products, and apparently these pink bottles caught his attention. I appreciated that the shampoo lathered up, because a lot of eco-friendly shampoos don't lather and I always feel like I'm missing out on something when I use them! The only issue I had was that I needed a lot of conditioner to coat my thick hair, which means I'll probably only be about halfway through the shampoo when I run out of conditioner. However, since Organix products aren't super pricey, it won't cost an arm and a leg to buy extra conditioner!
The second set I picked out was the Coconut Milk. I'll be honest… I was craving toasted coconut marshmallows at the time, and I was a slightly tempted to taste the shampoo when it arrived. However, I saved all of the yummy coconut goodness for my hair! The other main ingredient in the Coconut variety is whipped egg white, which add fortifying proteins for an extra boost. My hair was silky smooth and lightly scented after showering, which is just how I like it! The Coconut Milk Shampoo was the winner of About.com's Best Coconut Product Award, which is strange and delightful award to have.
Buy it: Organix products are available in pretty much any drugstore, Wal-Mart, Target, etc. Last time I was in CVS the Organix products were tagged with rebate coupons, so now's a good time to try them for free.
Win it: And speaking of free, two lucky readers will win their own set of Coconut Milk Shampoo and Conditioner! Thank you, Organix! This contest will run until midnight EST on July 14th and is open to US and Canadian residents. Please leave a comment for each additional entry!
*I've been contacted a few times about the spam filter being rude, so I just wanted to remind everyone that you CAN submit your entries to thefashionablegal@hotmail.com INSTEAD of leaving a comment!*
Mandatory Entry: Leave me a comment telling me which of the scents sounds best to you AND what your biggest hair concern is.
Extra Entries:
Tell me what kind of shampoo and conditioner you're using now (and if you like it)! ~1 Entry
Check out the Organix Blog and tell me something you learned there. ~1 Entry
Follow me on Twitter @fashionablegal ~1 Entry
Tweet this giveaway by copying & pasting the following text w/o quotation marks ~1 entry per tweet up to 2x per day
"RT Win Organix Coconut Milk Shampoo & Conditioner set, 2 winners! Birthday Bash Giveaway 4 of 15 @fashionablegal http://tinyurl.com/l9pv9v"
Subscribe to my blog (box on sidebar) ~2 Entries
Blog about this giveaway ~5 Entries
Enter any other Birthday Bash Giveaway & leave a comment telling me which you entered! ~1 Entry per giveaway