If you entered yesterday's Birthday Bash Giveaway #4, you already know I've been enjoying Organix hair care products lately.  However, I've only told you how much I enjoyed the brands shampoos and conditioners; I haven't filled you in on all their great styling products yet!
As of now, not every one of the twelve scents offering has a styling product to accompany it.  Pomegranate Green Tea has a styling mousse, a styling whip, and an anti-frizz serum.  Vanilla has a blow-dry serum and a silk serum.   Shea Butter has a liquid glass serum and a smoothing treatment.  Teatree Mint has a hydrating serum and a leave in moisture-mist.  And Coconut Milk?  Coconut Milk has it all.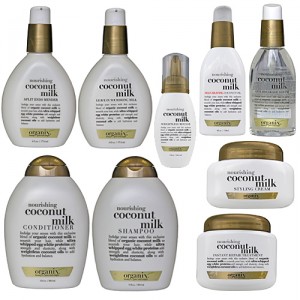 I was lucky enough to try out the entire line of Coconut Milk styling products, which includes:  Nourishing Coconut Milk Split Ends Mender, Nourishing Coconut Milk Anti-Breakage Serum, Nourishing Coconut Styling Mousse, Nourishing Coconut Milk Leave-In Nourishing Milk, Nourishing Coconut Milk Instant Repair Treatment, and Nourishing Coconut Milk Styling Cream.  Whew!
The only product I wasn't thrilled about was the Self Heating Oil, but I'm pretty positive that had a lot more to do with the crappy water in my apartment…  I swear, it knots my hair all on its own sometimes, so some in-shower products just don't stand a chance.  Since I don't have much to say about the Oil, here's what Organix says:  "Weightless coconut oil and organic coconut milk heals and replenishes your hair with ultra whipped egg white proteins for hydration and balance.  It's healing, moisturizing, and nourishing.  It adds extra moisture and balance.  This totally unique self heating formula is  an advanced technology which helps heal your hair.  It's a healing blend of organic active ingredients which is all you need for moist, smooth and seductive hair in one irresistible formula.  It's amazing!" I plan on taking my bottle with me next time I go on vacation or stay with family so I can try it out in a more than sub-par shower because it sounds pretty darn great and I'm guessing it deserves another chance!
The Mousse and Styling Cream are awesome products, and I'm really looking forward to using them more when I have shorter hair.  My hair is long and heavy, which means you need something more like a bulldozer to move & lift my tresses!  I like the styling cream in my bangs for my volume and definition, though.  The mousse was really nice for days when I blow dried my hair but skipped straightening it; I felt as though my curls were bouncier and definitely more tame!
The Split Ends Mender, Anti-Breakage Serum, and Leave-In Nourishing Milk were a trinity of hope for my hair!  I alternated using the products (and still can't pick a favorite) and saw definite improvement in the strength, health, and vitality of my locks!
~The Split Ends Mender contains keratin proteins, which are designed specifically to target dry, damaged, coarse, and color treated hair- which describes mine to the letter!  It also fights frizz while repairing split ends, making hair a heck of a lot easier to style!
~The Anti-Breakage Serum helps add elasticity to hair while it strengthens the shaft and mends the cuticle.  This means that brushing and blow drying will cause less damage and when hair is pulled up you'll suffer less flyaways.  If you have thin, weak, or brittle hair- this one's for you!
~The Leave-In Nourishing Conditioner impressed me, because it didn't make my often oily hair look like a greasy mess.  It contains ultra-whipped egg proteins, and silk amino proteins in addition to the coconut milk.  The combination helps defend hair from impurities in the environment (looking at you, city gals!), while aiding in an overall moisturizing and health boosting treatment of your hair.  This is a great one to throw on before you head out to tan!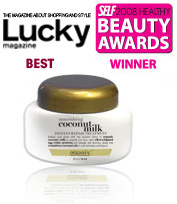 Last is up is the Nourishing Coconut Milk Instant Repair Treatment.   All you have to do is leave it in your hair for 3-5 minutes (I put my Turbie Twist over it and then hit it with the blow dryer for extra oomph) and this sneaky little product works magic.  The miracle ingredients are  "silk and keratin proteins formulated to repair and prevent the the effects of damage due to environmental, biological, and mechanical aging while restoring vibrance and bounce!" My hair was in a silky-smooth state of heaven and Lucky and Self Magazine agree with me- this baby rocks…  That's why two of you are going to win your very own!
Buy It:  If you're too impatient to wait for me to announce winners OR want to try one of the products that I'm not giving away, you can purchase Organix products in pretty much every drugstore, Target, Wal-Mart, etc.  I get mine at CVS!
Win It:  Organix has been generous enough to let me give away the Instant Repair Treatment AND the Anti-Breakage Serum to TWO lucky readers!  Giveaway will end on July 14th and midnight EST; open to USA and Canada.  You can leave a comment below for each entry OR send me an email with the entry details to thefashionablegal@hotmail.com (with "Organix Styling Products Giveaway" in the subject line).  Here's what you've got to do…
Mandatory Entry:  Tell me what your biggest challenge when styling your hair is AND what Organix styling product you'd like to try most (doesn't have to be from the Coconut Milk line).  Easy!
Extra Entries:
~Tell me what styling products and/or treatment products you use currently & whether or not you like them! ~1 entry
~Subscribe via email (box on sidebar).  ~2 entries
~Follow me on Twitter @fashionablegal ~2 entries
~Tweet this giveaway (copy & paste the follow text w/o quotation marks).  ~1 entry per tweet, up to 2x per day!
"RT Win 2 Organix Styling Products from @fashionablegal Birthday Bash Giveaway 5 of 15! Lots of entries available!  http://tinyurl.com/qdaejc"
~Enter any other Birthday Giveaway Bash (you can come back and do this every day one is posted), just tell me which one you entered!  ~1 entry per giveaway