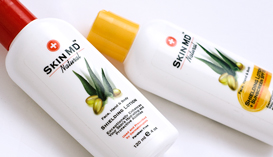 This first giveaway might not have the flashiest prize, but it's something everyone can use- a great moisturizer! Skin MD is generously offering ONE reader a bottle of Skin MD Natural + SPF 15 to one of my lucky party guests!
You guys should know I have super dry skin by now; I complain about it all the time! Between the weather, the dry air in my apartment, and shaving… Ugh! The skin on my face has been getting tight and dry lately as well because of the frequent heat-induced showers, masks to get rid of oiliness, product trials, etc…
Far too often, I found the lotions I'm using on my face and body are greasy and leave a sort of filmy feeling to my skin. I hate waiting for lotion to absorb so I can get dressed or start typing! Skin MD Natural absorbs very quickly and leaves my skin feeling clean and moisturized, not grimy. What's even cooler is that you can use it on your body AND your face!!! I was skeptical at first because normally lotions are for one or the other and ones that do both make me break out. However, even with my super sensitive skin, I found that Skin MD Natural replenished my skin's moisture from forehead to toes without any breakouts or other issues.
"Skin MD Naturalâ"¢ is promptly absorbed, without the slightest hint of any greasy or oily feeling or residue, transforming the outer layer of skin into a hydrating invisible shield.
Glycerin has been the standard against which all humectants are measured. Until now no other humectant drew in as much moisture from the air as glycerin. But the proprietary formulation in Skin MD Natural has a moisturizing factor of at least 6 times greater than glycerin. Combined with its protective properties and natural ingredients, this makes Skin MD Natural a truly unique product.
An accumulated effect of Skin MD Natural is fully realized after only a few days of daily use. Depending on how dry your skin is the first few days may require reapplications after only a few hours. Usually, after a few days of continuous use, only one or two daily applications are necessary to see the improvement."
You can read more about Skin MD and see some nifty pictures of how the lotion works on the product website. Aside from the fact that it saves you the trouble of applying sunscreen (unless you're going to be in direct sun all day and then you should be using something higher than SPF 15!!!), here are some other great benefits of Skin MD Natural:
No animal products or testing
Dermatology tested
Fragrance and colorant free
Hypoallergenic
Paraben free
Non-comedogenic
Alright, so ready to win your own??? Please check out the rules post if you have any questions!
This giveaway will run until midnight EST, July 14th. US & Canadian Residents only, please. DO NOT leave a comment in order to entry; you MUST email each entry to TheFashionableGal@hotmail.com. The subject line should read "SKIN MD GIVEAWAY) and the body of the email should either contain your answer, a link to a tweet, a note that you're a subscriber, etc.
Mandatory Entry: What is your biggest skincare concern? ~1 Entry
Extra Entries:
~Follow me on Twitter @fashionablegal ~1 Entry

~Subscribe to my blog (box in sidebar) ~1 Entry
~Tweet the giveaway by copying and pasting this text (without quotes): ~2 Entries
"Please RT: Birthday Bash Day 1 of 15 @fashionablegal! Win Skin MD Natural Shielding Lotion; lots of ways to win! http://tinyurl.com/n35wpm"
~Blog about this giveaway with a link back to it! ~3 Entries
~Enter any other Birthday Bash Giveaway and leave a comment with which you entered (I know this is the first giveaway but you can come back and do this each day for each other giveaway you enter!)
~Join Swagbucks using the banner below (they have Target, Victoria's Secret, Macy's, etc. GCs!) ~2 Entries