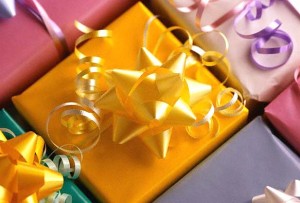 Guess what, lovely ladies? I'm having a birthday party, and you're all invited! Unfortunately, I can't fit all of you into my apartment, so I'm going to be holding the party online… For the next two weeks!!! Each day I'm going to be holding a giveaway and YOU will be getting the "presents!" Lucky! I've got books, jewelry, skincare products, and a few surprises!
In order to make sure everyone gets a fair chance at the goodies, this is going to be the "rules" post and I'll link back to it with each giveaway. I'm going to outline the basic ways to be entered, who's eligible, et cetera!
~Each giveaway I announce will run from the day it is announced until midnight on July 14th. The 15th is my actual birthday, and there might be a special giveaway on that day… Since I'm not promising I'll be online during my birthday, winners will be announced within a few days.
~Giveaways are open to the US and Canada unless otherwise specified.
~Because the spam filter blocked a lot of non-spam comments during the CoverGirl giveaway, entries for these giveaways will need to be submitted by email to TheFashionableGal@hotmail.com. FOR EACH ENTRY, please send a separate email. If an entry gives you more than one entry-for example, if I write tweet about the giveaway-2 entries, send me THAT NUMBER (for the example, 2) of emails with the subject line indicating the giveaway you're entering (ex:Â  SKIN MD GIVEAWAY).
~In the body of the email, please either answer the question, provide the information, or link to what you did (like tweet). Entry options will vary giveaway to giveaway so make sure you read the individual giveaway rules.
~Feel free to enter any and all giveaways! You ARE allowed to win more than one! More presents for you if you do : )
~If you have any questions or problems entering, please email me at laney@thefashionablegal.com with "contest question" or "contest entry problem" in the subject line so I prioritize!!!
IF YOU ARE A BRAND REP OR BUSINESS OWNER AND WOULD LIKE TO ADD YOUR PRODUCT TO THE GIVEAWAY, I would love to include you! Please email me at laney@thefashionablegal!