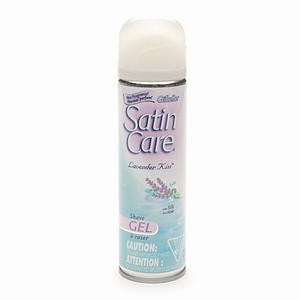 Since my legs are so dry and sensitive, even the best razor doesn't make shaving a great experience unless I have a high performing shave gel to back it up! My shower is about as big as a porta-potty and doesn't provide a much more pleasant experience (although it's certainly cleaner!) so I need to be in and out fast!
Gillette recently introduced a new Satin Care shave gel line that has a bunch of cool new fragrances: Alluring Avocado, Melon Splash, Radiant Apricot, Vanilla Dream, Wild Berry, Oceania, and Lavender Kiss. I'm really intrigued by the avocado scent- that's something I've never seen before!
The Satin Care shave gel that I've been testing out is the Lavender Kiss variety. Lavender is one of my favorite scents because of its relaxing properties. I find that it's a great product to use when I'm showering before bed!
"Lavender Kiss provides a cushion of protection that hugs your legs during your shave, so your razor glides smoothly across the skin. Its rich, creamy lather makes it easy to see where you've already shaved and leaves your legs feeling soft and smooth like satin. The clear purple gel, infused with a luxurious, enveloping lavender scent pampers your senses."
Because my shower is so small, it's hard to keep the gel from being washed off my legs before I'm done shaving. What I really like about this formulation is that even in areas where the cream has been washed off before I shave, my skin is still smooth and moisturized. Some shave gels just don't have any standing benefits and when they're gone, they're gone! Lavender Kiss keeps working even when it's gone, which makes it an obvious choice when I hop in the shower.
Any of the Satin Care shave gels are available at drugstores, Target, Wal-Mart, and wherever else you normally buy Gillette products! You can also order them online straight for Drugstore.com for $3.69, but since the suggested retail is $2.99 you can probably find them cheaper if you just head to the store!