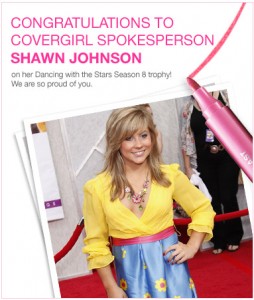 In a recent interview with Teen Vogue, Gold-Medal Olympian and Dancing with the Stars Winner Shawn Johnson was quoted as saying:
" Cover Girl Outlast Lipstain! It almost looks like a marker, and I love it because it's not a lipgloss so it's not sticky and it really stays on. I don't have a favorite color because I always have, like, five different ones in my bag!"
I got a chance to try out these totally fun new lip products, and so can you (just keep reading)!
As Shawn said, each tube of CoverGirl's Outlast Lipstain basically looks like a slightly slimmer magic marker. They're really easy to use because basically all you need to do is color in your lips. It's such a basic design I'm sort of surprised nobody thought of it before!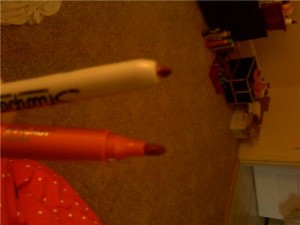 Sorry for the sideways picture- it's a comparison of the lipstain and a Sharpie. It would be really neat if Covergirl found a way to make sort of "click sticks" like the newer Sharpies, although I guess gunk might get into them if you left them in your purse…
Anyway, these are really fun to use. Plus, you don't need to do the whole lipliner before your lipstick thing because these stay put really well. However, if you want a glossier finish, the Lipstains DO work really well as a substitute for traditional lipliner, or as a longer lasting lipstick sub under lipgloss. Basically, they're perfect on their own but play well with other products, too! When worn alone, they actually feel like your lips are going commando, and look really natural. Nobody but you will know you're wearing product (unless you go for a screaming shade of red or something)!
The three I tried were Everbloom Kiss, Flirty Nude, and Sassy Mauve (one of my two personalized CoverGirl picks). The latter is my favorite, no surprise, but each of the colors was gorgeous. I think it would be adorable if CoverGirl made some sort of gift set where the glosses were sold in marker type boxes! I was a little bit tempted to grab some paper and just draw a picture with all the pretty shades of pink…
Okay now here's the giveaway! Two winners will receive a prize pack featuring some of Shawn's favorite products, including the CoverGirl Outlast Lip Stain, Secret Clinical Strength Sport Deodorant, and Crest Whitestrips Advanced Seal! This giveaway is open to US & Canadian Residents only and will end on 06/22/09 at 11:59 PM EST. Good luck, ladies!
Here's how to enter:
~MAIN ENTRY (must be completed for others to count): Visit CoverGirl.com then come back and leave a comment telling me one other product you'd like to try OR are currently loving!
Extra entries (leave a comment for each):
~Follow me on Twitter (leave your ID in the comment).-2 entries
~Tweet about this contest (leave a link to the Tweet in your comment). Can be done once daily.
~Subscribe to my blog (top left corner of page).-1 entry
~Enter a giveaway on The Fashionable Housewife (tell me which in your comment).-1 entry
~Blog about this giveaway on your page!-5 entries!
(If you do something worth more than 1 entry, leave the appropriate number of comments for the action with a number and all the necessary info-like an ID or link-in each!)
Can't wait to win? Drugstore.com has CoverGirl's Outlast Lipstain for $7.49 and they're on BOGO!
If our spam filter is having a bad hair day and you can't seem to leave a comment, please email me immediately!
Since some comments aren't showing up on the post OR in the spam filter, I will be using the COMMENT NOTIFICATION EMAILS (I'm getting them whether or not your comment actually goes through) to select a winner!  Keep leaving comments for your entries but don't worry if they don't show up- they'll still be counted!!!  Sorry for the hassle but yay for prizes!