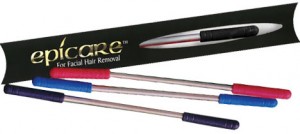 "Epicare is the world's first Do-It-Yourself Manual Threading device to remove unwanted facial hair. Its unique spring action removes unwanted hair from the roots safely and effectively without damaging the skin. Just Bend and Roll. It's as simple as that! You can now have the benefits of threading without the expensive as facial hair removal is at your fingertips!"
I love this idea! Basically, the middle part of the wand (?) is made of a narrow coil. You hold the handles and bend the device into a "u," then roll it back and forth over unwanted hair. I'm not going to lie-it totally stings, but not any worse than tweezing or waxing. Since it removes multiple hairs simultaneously, it's a quicker procedure than tweezing, so the pain goes away a lot sooner. I've never had a threading session, and now I'm never going to need one! The epicare works really well; I tried it on my boyfriend's arm* (before my face!) when he wasn't paying attention and it totally took the hair right off (I'm totally girlfriend of the year material). Hair is pulled out by the root, which as you probably already know, makes regrowth time a lot longer.
I really like the fact that it's not at all obvious what this tool is for. I hate realizing that I've left tweezers out when someone comes over… They don't need to know that I wasn't born without perfect eyebrows (don't use the epicare there, though), much less that I have hair on my face! Just make sure you keep the epicare free of hair, or you're going to have some explaining to do. Another plus is that it doesn't break me out, which shaving/waxing/tweezing all tend to. I guess it's probably because the epicare just glides gently over the skin, whereas sometimes I pinch myself with tweezers, wax pulls on the skin, and razor blades get dragged across it. And always a plus-epicare doesn't use any chemicals, and doesn't send anything down the drain, so it's cost effective AND eco-friendly! The device itself lasts for 6-8 months, so you won't be throwing away lots of plastic like you would with disposable razors or replacement blades.
There's a bunch of other information (safety, materials, etc.) that you can check out here. The bottom line, though, is that it's safe, strong, hypoallergenic, and totally effective. You can buy one for only $16.99 directly from Face Authority. It's available in green, red, yellow, blue, black, pink, and lavender. Oh, and right now, first class shipping is free in the US and only $1 internationally! Annnd, if you're still worried you won't like it, there's a 14-day return policy. So really, what have you got to lose-except that unwanted facial hair?
*Don't taunt your boyfriend with it. He'll get pissy. Fair warning!