If you haven't heard of Layers Clothing before, sit up and take notice! The brand offers absolutely gorgeous tops and a vast selection of beautiful swim wear. You definitely want to check it out!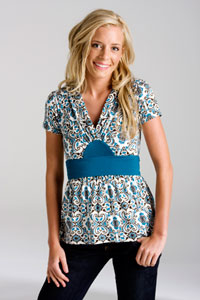 I got to try out this uniquely stylish top, the Harper ($30). The waist band adornment made me immediately think of a kimono, which I would love to own! Fortunately, the Harper is cute (and more functional) so it was a great substitute. The material is super soft and stretchy, and the shirt itself is very lightweight. The cotton/polyster blend, short sleeves, and v-neck make this a perfect shirt for Spring and summer. Teal has been a big color so far, and it's one I find to be flattering on pretty much all skin tones. The pattern is eye catching, but the solid band breaks things up and also makes the waist appear smaller. My only complaint is that Layers clothes (or at least this piece) run small- the Large I received seemed more like a Small or Medium. Keep that in mind when ordering!
Here are some other pieces I'm loving…
And the swimsuits I mentioned:
You can check out all the offerings from Layers Clothing directly on
their website
.