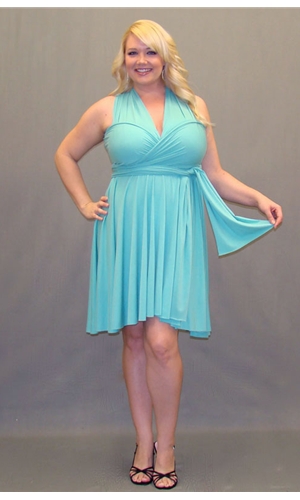 A wrap dress, that is! The Anastasia Interchangeable Wrap Dress is one of the newest offerings from SWAK Designs, and it's totally original! The gorgeous teal is a great shade for Spring that glows on pale skin (like mine) and lights up against tans. If you're not digging the seasonal hue, you can also pick it up in black, so no worries! Here's some quick info:
"Ladies, have you ever had a dress that fit you so perfectly you wish you could have that exact fit with multiple dresses? Ever wish that perfect dress could be dressed up to wear to a fancy gala in the evening or dressed down to go to brunch with the girls the very next morning? Or how about a dress that would make you curves look completely amazing and the envy of many? Well guess what my glamazons, Sealed With a Kiss Designs has found the perfect dress of your dreams. Our "boundless" dress has just become your all time favorite dress, period.
This dress features two 9 ft long panels of luxurious fabric to drape around your upper torso an infinite amount of ways. This dress can virtually be worn as a halter, spaghetti strap, tube, one shoulder, and with sleeves in a manner of minutes. Want even more versatility? By simply moving the waist band of the dress above the bust, you have an array of tops you can wear as well. Great for taking on vacation."
I will admit that I was COMPLETELY confused when I first got this dress in the mail. I mean, it's not often that I have to tie my clothing. In fact, it sort of became a running joke between the boyfriend and I because I felt a little silly not being able to dress myself. However, SWAK posted a video on Youtube showing you seven ways to style it; suddenly it makes sense (oh, and how gorgeous is that model???)! I still totally recommend having your boyfriend/friend/mom on hand, or at least a full length mirror… Otherwise, you might leave the house with an odd bit of back showing, which would totally downsize the sexy-factor.
The cotton/polyester blend means the fabric is really soft and breathable, which is perfect for spring. Even though it looks like you wind up with a lot of layers, the light material still allows plenty of air flow, so you're not going to feel suffocated. Plus, how cool is it that you can take it from a dress to a top? With so many options, it's just too bad there aren't more colors available-you could wear one of these wraps every day of the week and no one would even know!